Healthy Meals at Home for Less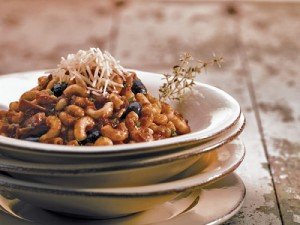 For example, this recipe for Everyday Elbows makes dining in not only budget-friendly (about $1.40 per serving), but delicious and healthy, as well. The addition of lean ham and olives give this family favorite a new and exciting twist beyond the basic marinara sauce. Plus, the quick convenience (30 minutes start to finish) makes it perfect for any night of the week.
"Using Dreamfields Pasta provides an added health boost," says Ross, "because it delivers twice the fiber (five grams), fewer digestible carbohydrates and a lower glycemic index than traditional pasta. These health benefits, along with having all the taste and texture of traditional pasta, make Dreamfields an ideal choice for the 81 million Americans with diabetes or pre-diabetes, and the entire family, too."
Versatile pasta can be combined with a variety of ingredients for a nutritious and flavorful meal in no time. To save even more money, Ross recommends stocking up on ingredients when they are on sale, and keeping essential favorites on hand to create quick, healthy meals.
For more recipes and information about healthy eating, visit www.DreamfieldsFoods.com. To purchase Ross' book, visit the online bookstore at the American Diabetes Association Web site, www.diabetes.org.
Everyday Elbows
Preparation Time: 10 minutes
Cook Time: 20 minutes
Makes 6 main dish servings
1 box Dreamfields Elbows
2 teaspoons olive oil
1/2 cup chopped red onion
4 ounces cooked ham, cut into thin strips
1 jar (26 ounces) marinara (pasta) sauce (see note)
2 tablespoons pitted ripe black olives, halved or quartered
1/4 cup chopped fresh parsley
1/4 cup grated Parmesan cheese
Cook pasta according to package directions. Drain and return to pan; keep warm.
Meanwhile, heat oil in large skillet over medium heat.  Add onion and ham; cook 5 minutes or until onion is tender, stirring frequently. Stir in marinara sauce and olives. Simmer, uncovered, 10 minutes, stirring occasionally. Stir in parsley.  Add sauce to pasta; toss. Serve with Parmesan cheese.
Note: Recipe was tested with 0g fat pasta sauce.
Nutrition information per serving (1/6 of recipe): 280 calories;15 g protein; 8 g digestible carbohydrates*; 6 g total fat; 2 g saturated fat; 15 mg cholesterol; 410 mg sodium; 6 g total dietary fiber.
*If traditional pasta is used in this recipe there is a total of 48 g carbohydrate per serving.
Courtesy of Family Features