Cirque du Soleil is Back, Bigger and Bolder with Saltimbanco
Blaze | 7/23/2009, 6:40 p.m.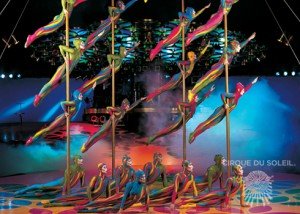 This signature show compiles aspects of theatre, dance and music and couples it with colorful costuming, lighting and make-up to take spectators on an allegorical and acrobatic journey into the heart of the city.
The show which opens in Houston's Toyota Center on July 22, and runs through July 26, is made up of a cast of 49 from Canada and 20 other countries. Jugglers, Artistic Bicycle, Chinese Poles, and Adagio the unmatched acrobatics and colorful performances are presented like only Cirque du Soleil can.
If you've never been to a Cirque du Soleil show, brace yourself for a spectacle you won't soon forget. Imagination invoking, emotion evoking, and sensory provoking is their mission, and with 25 years and 90 million spectators under their tent, their mission is being accomplished.
For more information visit www.cirquedusoleil.com or call The Toyota Center at 1-866-446-8849. Tickets range from $40 to $95 for adult and $32 to $76 for children (12 years & under)