"The Cost of Bad Behavior" by Christine Pearson and Christine Porath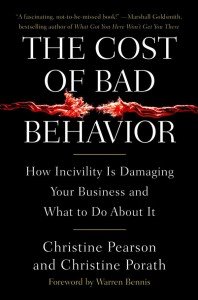 When he started, everybody thought he'd be a superstar. His references were unusually glowing and he was a real go-getter, but then he slipped up a few times and got reprimanded at a company confab. Word spread pretty quickly.
Now nobody even bothers to invite him to meetings. It's no use. The superstar is a super slacker.
Is he inept? Perhaps, or he might be the victim of incivility and that could be very expensive for your business. In the new book "The Cost of Bad Behavior" by Christine Pearson and Christine Porath, you'll see how attitude and old-fashioned rudeness can sink a business from inside and outside.
Sure, you've been publicly reprimanded or ignored at work. You didn't like it and you're not alone: in a 2005 survey, ninety-five percent of U.S. employees reported being the victim of incivility at work. Ninety-nine percent of Canadian workers said they'd witnessed incivility on the job.
Incivility, it seems, is epidemic. And like a nasty virus, it spreads through your organization quickly and can affect the bottom line.
When an employee is repeatedly treated uncivilly, it costs in productivity. Nearly 100% of respondents in a study said that when they were victims of incivility, they wasted considerable work-hours re-hashing the event. Some took the issue home with them, which led to stress, which led to absenteeism. Nearly half decreased their time spent at work or decreased their effort. Over three-quarters admitted that their commitment to the corporation declined.
Each year, businesses lose valuable talent from their payrolls because of incivility. Many of those workers quit, costing the business time and money in finding and re-training a replacement. And nearly every one of those who were victims said they got revenge in one way or another.
And if a client witnesses incivility? Chances are, you'll lose not only a good employee, but a good customer, too.
So what can you do? If you're a business owner, set a zero-tolerance policy and listen to your employees. If you're the target, recognize the toll incivility takes and appeal to a higher authority. And if you're an offender, start with ABCDs.
All your life, Mama said you'd never get anywhere without manners. This book proves Mama was right.
Using interviews, case studies, and real (shocking) events, authors Christine Pearson and Christine Porath show that plain old rudeness isn't so plain any more, and that being nasty can have nasty repercussions. Aside from the jaw-dropping examples they cite and the statistics they present – both of which will make you cringe - what's probably most helpful for businesspeople is the section on determining monetary loss resulting from incivility. Yes, indeed, when bad words fly out of your mouth at work, money flies out of your wallet.
If you notice too much snarkiness at work or if you believe you and your co-workers could do better in the Nice Department, pick up this book and read "The Cost of Bad Behavior" together as a team.
Please.
Thank you.