Joel Fitzgerald named Missouri City Police Chief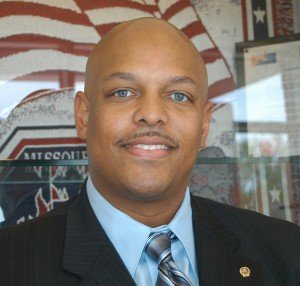 Missouri City, a fast growing suburban city estimated to have more African Americans than any other group, hired this spring Joel Fitzgerald as its first African American Police Chief.
Fitzgerald, a 17-year Philadelphia Police veteran, rose to lieutenant earning a Villanova University MBA. He is working on a Ph.D. in business administration.
"I've never felt more welcomed anywhere. Since hired March 30, I've met with all the officers, visited with all patrol beats, met with all city department heads and am engaging home owners associations, civic clubs, churches and business," Fitzgerald said.
"This is a city with a proud past. It is on the grow. My wife Pauline, who is leaving her post in Vice Enforcement with Philadelphia Police, and our three children look forward to being part of impacting this city positively," he said taking charge of the 107 person department pledged to safety for the city's more than 65,000 residents.
Allen Owen, Missouri City's Mayor for more than 15 years, is truly thrilled about the addition of Fitzgerald and his family to Missouri City. Owen said the community policing credentials that Fitzgerald honed in Philadelphia will be a plus in Missouri City Fitzgerald is deploying his officers into regular beats now in neighborhoods and subdivisions for them to see everyday what is happening in those communities, to know the families and businesses and what it is they need.
"His ideas are welcomed here. Our city council will work together to back him up so that we can have long supportive team like approach to enforcing laws, fighting crime and protecting the citizens that follow the laws, pay the taxes, work at and build the business of Missouri City," said Owen who takes pride in stating other cities talk about diversity while his city lives it everyday.
In 2005 the US Census Bureau estimated Missouri City was about 40 percent African American, 38 percent Caucasian, 15 percent Hispanic and 14 percent Asian or Asian American.
In 2008, Congressional Quarterly named the city the 22nd safest in America in its population category. "It is an honor to be selected to lead this department," Fitzgerald, 37-years-old said. "I am eager to work with those who risk their lives to keep this city one of the safest in America. .The leadership transition should be seamless as we meet this city's challenges for the future."