"Liquid Steel Drummer" performs and instructs the art of the steel drum at the Houston Public Library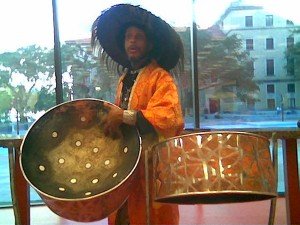 Wednesday, June 10th, Shinar performed the second of six scheduled free performances as a part of Houston Public Library's Summer Reading Program's music concert series coordinated by the MoShows.com Entertainment.
After a brief performance of romantic, jazz, showtunes, oldies, and reggae and even country music, Shinar shares with the audience the history of the steel drum, how it is made, how to make one yourself and then pulls guests from the audience to play accompany him on the bass drum.
The four photos here were taken on June 10th at his performance in the coffee shop of the Downtown Houston Library. Shinar is shown in 2 photos demonstrating how to make your own steel drum and in the remaining shots he is seen with audience members Cesar Rodriquez and Daniel Wilson (see photo labels) learning a new skill playing the large bass steel drum while Shinar sings and plays a self made steel set with 32 notes! Interested persons can see 5 different YouTube videos of Mr. Shinar at http://liquidsteeldrums.com. Including a copy of his online music video "Yah Make Me Blue" the title cut from his CD of the same name.
Shinar and "Cosmic Steel" his steel drum band, can be seen every Tuesday from 10pm-12mn at Houston's Last Concert Cafe, (http://www.lastconcert.com) ?1403 Nance St, Houston, 77002... (713) 226-8563
OTHER UPCOMING FREE PERFORMANCES AT HOUSTON PUBLIC LIBRARIES...
(www.hpl.lib.tx.us ).
Thu- 6/25/09 2pm Heights Branch Library 2pm Houston TX
Fri- 6/26/09 1:30pm Walter Branch Library 1:30pm Houston TX
Wed- 7/8/09 1pm Vinson Branch Library 1pm Houston TX
MORE INFO ON HOUSTON'S PREMIER STEEL DRUM PLAYER...(http://liquidsteeldrums.com).
Booking Info: 713-521-0900, steeldrums@moshows.com
Media Contact (24hrs): Kijana Wiseman, MoShows.com 713-521-0900 Cell: 713-446-7413
Upcoming MoShows.com Artist Schedules
*This date is still pending at this time. Call 713-521-0900 for final confirmation before attending.
06/12/2009 4p ...Janie Frazier ...Smith Library, 3624 Scott St., 77004 ...Houston TX
06/13/2009 2p ...Terry Parker ...Collier Library...6200 Pinemont 77092 832-393-1747 ...Houston TX
06/15/2009 6p ...Cynthia Smith ...Stimley-Blue Ridge Library....7007 W. Fuqua ...Houston TX
06/16/2009 6:30p ...D.R.U.M. ...Scenic Wood Library, 10677 Homestead, 77016 | 832-393-2030 ...Houston TX
06/20/2009 5-7p ...Shinar ...PRIVATE PARTY
06/25/2009 2p ...Shinar ...Heights Library 1302 Heights Blvd 77008 ...Houston TX
06/26/2009 4p ...LaJuan Law ...Smith Library, 3624 Scott St., 77004 ...Houston TX
06/26/2009 1:30p ...Shinar ...Walter Library, 7660 Clarewood 77036 ...Houston TX
06/27/2009 6p-7p ...Mikki Holland ...Moms Mably for a Birthday Party Private party ...Houston TX*
070/4/2009 7p ...Trance Lady ...Ansbach Germany Army Base Ansbach APO AE
070/8/2009 1p ...Shinar ...Vinson Library, 3100 West Fuqua, 77045...832-890-8518 ...Houston TX
07/13/2009 6p ...Terry Parker ...Looscan Library, 2510 Willowick 77027 ...Houston TX
07/14/2009 6:30p ...LaJuan Law ...Scenic Wood Library, 10677 Homestead, 77016 | 832-393-2030 ...Houston TX
07/29/2009 2:30p ...Shinar ...Walter Library, 7660 Clarewood 77036 ...Houston TX
07/30/2009 4-5p ...Louie .....Mancuso Library 6767 Bellfort 77087 ...Houston TX
07/30/2009 6-8p ...Tony Martinez ...Mo-County Library 2101 Lake Robbins Dr, 77380 ...The Woolands TX*
08/01/2009 8:40-10p ...D.R.U.M. ...Bricktown Reggae Fest ...Oklahoma City OK
09/05/2009 7-9p ...Shinar ...PRIVATE PARTY ...Houston TX
09/05/2009 10p-12mn ...Terry Parker ...PRIVATE PARTY ...Houston TX
10/10/2009 TBA ...KIJANA! ...PRIVATE EVENT Spring TX
11/07/2009 10:30&2p ...Shinar ...2 Plano Libraries ...Plano TX*