Lionel Richie, Frankie Beverly and Maze, Ryan Leslie, Melanie Fiona, Charlie Wilson and Little Freddie King Join Line-Up For ESSENCE Music Festival 2009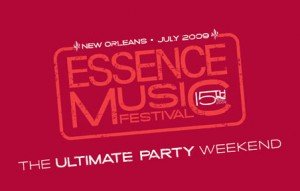 This year, the weekend-long 15th Anniversary celebration of music and empowerment will conclude with a special ESSENCE ICONS TRIBUTE to Frankie Beverly and Maze, the group who have closed the annual New Orleans festival since its 1995 inception. This one night only event will feature a gathering of stars of R&B and soul music who will come together to honor the legacy of Frankie Beverly and Maze.
The updated acts:
Frankie Beverly and Maze: For nearly thirty years, Frankie Beverly and Maze have created a sound that is distinctive, passionate, creative, original, soulful, honest and powerful. The group continues to be one of the most requested at music festivals throughout the world drawing major crowds and have earned a reputation for having one of the best live shows in R&B. Frankie Beverly and Maze have closed the show for the past 14 ESSENCE MUSIC FESTIVAL's including 2006's post-Katrina festival in Houston.
Lionel Richie: This global superstar is also an Academy Award and Grammy Award-winning American singer, songwriter, record producer who has sold more than 100 million records.
Charlie Wilson: As the former lead singer of the funkadelic brotherly trio, the GAP Band, Charlie Wilson is known as one of the most familiar voices in R&B music. From classic R&B GAP Band hits like "Yearning for Your Love" and "Outstanding" to collaborations with Justin Timberlake on "Signs" and Snoop Dogg and Pharrell Williams on the Grammy nominated track "Beautiful," Wilson continues embracing contemporary music with his phenomenal vocal style and unique licks.
Ryan Leslie: Singer/producer Ryan Leslie's self-titled debut album was released this past February. Billboard magazine said, "With its smooth melodies ('Just Right'), fresh beats ('Diamond Girl') and effortlessly suave lyrics ('Quicksand'), the album satisfies from beginning to end."
Melanie Fiona: Singer/songwriter Melanie Fiona's debut album The Bridge reveals a sweet push-and-pull between countless elements of herself. United by a singular passion, Melanie Fiona's sound bridges past and present with an artistic and consistent blending of classic soul samples. It's all held together by a unique quality, something that is innately her, much like the other artists she mentions as influences: Bob Marley, Sade, and Patsy Cline.
Little Freddie King: An acclaimed international blues artist/American roots guitar player from New Orleans. His live performances have enthralled audiences at music festivals throughout North America and Europe.
"From Lionel Richie to Charlie Wilson and Ryan Leslie, we have worked hard to create a musical line-up that's appealing to all of our fans," said Michelle Ebanks, president, Essence Communications Inc. "As the Essence Music Festival line-up has come together, we are thrilled to once again confirm Frankie Beverly and Maze as the act to close out our 15th anniversary celebration. We're looking forward to another great weekend of music and empowerment."
For additional information about ticket sales, accommodations and the latest news about the ESSENCE MUSIC FESTIVAL, visit www.essencemusicfestival.com. General admission daily tickets are available for $51, $67 or $79; floor seats are $92 and $121; Gold Circle tickets are $173; all plus applicable service charges. To purchase tickets, visit www.ticketmaster.com or call 800-277-1700.
The 2009 ESSENCE MUSIC FESTIVAL is executive produced by Essence Festivals LLC and produced by Rehage Entertainment. Essence Festivals LLC is a division of Essence Communications Inc. (ECI). The 2009 ESSENCE MUSIC FESTIVAL sponsors include Presenting Sponsor Coca Cola; Major Sponsors: U.S. Army, Covergirl, Queen, McDonald's, Pantene, Ford, and Walmart; and Official Sponsors: My Black is Beautiful, Southwest Airlines, COORS, TBS and CNN.