HISD students perform in TUTS production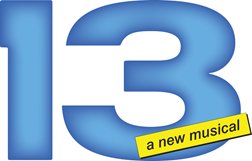 This presentation by The Academy at Theatre Under The Stars' Humphreys School of Musical Theatre (HSMT) hits the Zilkha Hall stage at the Hobby Center for Performing Arts downtown, September 10 – 12, 2009. There will be 7:30 p.m. evening performances on September 11 and 12, and a 1:30 p.m. matinee performance on the afternoon of September 12, 2009.
Evan Goldman is living the dream – he's popular, has the 'perfect' family and lives in the greatest city in the world – New York. That is until his parents get divorced and he's forced to move to a small town in Indiana. Uprooted from his old life, he has to make new friends and somehow navigate the social minefield of high school to become part of the 'in-crowd'. With wit and searing honesty, 13 is a hilarious, high-energy musical for all ages.
The role of Evan Goldman will be played by Aaron Boudreaux, a student at College Park High School, and resident of The Woodlands. 16 year-old Boudreaux's regional credits include Joseph in Joseph and the Amazing Technicolor Dreamcoat and Rolf in The Sound Of Music, both produced in the Woodlands. Archie will be played by Sean Hardin, a 13 year-old, student at Logos Preparatory Academy. Hardin has worked with the Houston Grand Opera, the Houston Symphony, and at the Alley Theatre. The role of Patrice will be played by Sydney Roberts, who made her main-stage debut in Les Miserables at Theatre Under The Stars and whose other TUTS credits include The Stephen Schwartz Project and Geppetto & Son, among others. Chris Canal, will play Brett. Canal, a senior at Houston's HSPVA, is currently a member of the Cabaret cast and has been seen at TUTS in Disney's When You Wish and Geppetto & Son. Lucy will be played by Betty Marie Muessig, a HSPVA sophomore, currently a member of the Cabaret cast whose other TUTS credits include Les Miserables, The Stephen Schwartz Project, and Aladdin, Jr among others. The role of Kendra will be played by Stephanie Styles, a senior at Episcopal High School most recently seen as the leading player in Pippin. Nationally, Styles has toured with The Sound of Music and played the Rose in the New York City Opera production of The Little Prince. Styles was also seen as princess Jasmine in the ACT @ TUTS' production of Aladdin, Jr. Canal, Muessig and Roberts are all students at The Academy at HSMT.
Rounding out the cast are Malcolm Walker (who played Pluto in Bellaire High School's production of THE FROGS and was nominated as Best supporting Actor at the Tommy Tune Awards), Alicia Reece, Ashton Muniz, Austin Jacobs, Bethany Trevino, Billy Cohen, Brooke Humphrey, Charity VanTassel, Christian Warner, Conner Jones, Danielle Norwood, Haley Beiermeister, Jackson Perrin, Jake Muck, Lauren Selig, Luke Hamilton, , Monica Brown, Monique Groen, Morgan MacInnes, Morgan Starr, Ryan Jacobs, Ryan Kennedy, Ryne Nardecchia, Sam Burkett, Sandy Valles, Sydney Roberts and Whitney Brandt.
Beginning Wednesday, July 1, single tickets for 13 will be available by phone at (713) 558-8887, outside the Houston area at (888) 558-3882, in person at the TUTS Box Office, inside the Hobby Center, Monday - Friday 10 a.m. - 6 p.m., Sat - Sun 11 a.m. - 4 p.m.; or on-line . Discounts are available to groups of 15 or more.
Theatre Under The Stars' sponsors of 13 are the Cullen Trust for the Performing Arts, and the Immanuel & Helen B. Olshan Foundation, who graciously provided scholarships for HSMT Students throughout the year.