FBISD Student Leadership Group Explores Business Community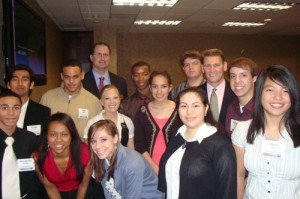 [caption id="attachment_2399" align="alignleft" width="300" caption="Pictured (front row, from left) are: Stovinoha Bradley, Alyssa Mercadel, Tessa Salomone, Vanessa Pena, Angela Song; (second row) Mauro Loya, Lindsay Ramirez, Perla Aparicio, Former Sugar Land Mayor, David Wallace; Jonathan Williamson; and (back row) Delas Lancelin, FBISD Board Member, Daniel Menendez; Dexter McCoy and Zack Raybourn."]
Fort Bend ISD's Student Leadership Program participants discussed economic leadership within the Fort Bend community at their fourth seminar held in February. Sponsored by FBISD Board Member, Daniel Menendez, the meeting gave the students the opportunity to learn how businesses are created, how they function within the community, and how citizens contribute to the success of businesses.
Menendez is a small business owner and registered professional engineer. He introduced the seminar's topic to students using his business perspective. He encouraged leadership members to be "the drivers" in leading their peers in positive endeavors that support our community. Program facilitators and FBISD teachers, Betty Ann Williams and Lynda Ruther, then led students in a group discussion on leadership qualities, emphasizing the community's need for dynamic business leaders.
Following the introductory sessions, the leadership team began its tour of area businesses, first meeting with Nick Fisher, Director of Marketing at the Sugar Land Whole Foods Market. Fisher shared with students his knowledge of creating a business model and led the group on a tour of the Whole Foods facility.
The group also met with Jeff Wiley, President of the Greater Fort Bend Economic Development Council, who described the function of the council and gave an overview of Sugar Land's economic development. Wiley also described various leadership roles within a community that work together for the benefit of the entire community – one in particular being the city mayor. Former Sugar Land Mayor, David Wallace, was then introduced to students. Wallace shared his personal experience as a community leader and reminded students that a vital leadership quality for any community leader is integrity.
The student leadership group concluded its field trip with visits to First Community Bank, where they met with bank president, Tim Stubenrouch; and the nonprofit organization Fort Bend Cares, where they met with Board Member, Judy Marchand. During their visit to the Fort Bend Cares facility, students were given the opportunity to create their own plans for a non-profit organization. Some of their ideas were to create a baseball World Series for children with special needs and to start an organization that would provide financial assistance to families that have relatives battling terminal illnesses.
Menendez commended the students and said, "It was encouraging to see the student leadership group take the realities of today's economy and apply them in thoughtful, enthusiastic ways to benefit profit and nonprofit businesses. The students displayed depth in their critical thinking and their capacity to apply things they learned as we went through the day's activities."
Student Leadership member, Angela Song of Dulles High School, served as reporter for the February seminar.