TREK Women's Triathlon Series To Launch in Austin, Texas Sunday, May 17th Exclusively Designed for Women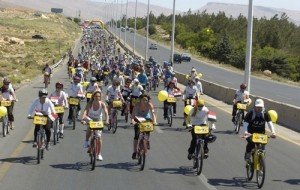 "I love men, but let's face it, if you're a woman doing a triathlon, don't you want it designed and run by women who understand what you really need?" laughs Maggie Sullivan, TREK Series Director.  Our transition areas have clearer signage.  We put 'Swim Sisters' in the water to make participants more comfortable.  And that's just the start of it.  Men just don't think about those kinds of details."
Sullivan is the former Series director of the Danskin Triathlon series, and has been at the forefront of creating opportunities for women in the sport of triathlon.   The Philadelphia Inquirer recognized her as the "The Grand Dame of Women's Triathlons."
"For this new TREK Series, I've gathered my entire team that delivered fabulous triathlon experiences to thousands of women throughout the country for 19 years," explains Sullivan.  "We are building on our collective experience and are making the sport of triathlon better.  We know how to deliver what women want."
Sullivan's team includes legendary Hall of Famer and Ironman Master's world record holder, Sally Edwards.   Edwards is the TREK Series Chief Inspiration Officer.
"My role is to help women reach inside themselves and find what it takes to participate in this type of experience," explains Edwards.  "In fact, my goal this year is to help support my 200,000th woman across the finish line!  I'm thrilled that Trek is committed to reaching that kind of milestone for women."
Race Registration in Austin Now Open
The Austin Race will take place on Sunday, May 17, 2009 at the Walter E. Long Park at Decker Lake with race distances consisting of: ½ mile swim, 12 mile bicycle ride, and 3.1 mile run/walk. Participants are encouraged to go to www.trekwomenstriathlonseries.com to register as soon as possible, as space is limited.  For further information, call toll free at 1-877-221-9665 or send us your questions at www.info@trekwomenstriathlon.com .
Just Because the Economy is Bad Doesn't Mean Women Should Stay Home
The women behind the TREK Series understand that times are tough.  Entry fees are set at $75.00.
But the Series also wants to help women who have recently lost their jobs.
"The unemployment rate in this country is now 7%," says Sullivan.  "There are a lot of women who really need support from other women as they struggle to reassess their lives and their careers, or just get by.  We're going to reserve 7% of our entries for those women who have lost their jobs to race for free."    (Participants must show evidence of current unemployment for a complimentary entry and pay $10.00 for USAT one day insurance.)
A Race That Fits Every Women's Comfort and Experience Level
The TREK Women's Triathlon Series will feature an unprecedented seven official entry categories including: Age Groups (separated by five-year increments), Mixed Age Group (so you can do the race with family and friends), Athena (150lbs +), Women in Uniform (military or government), Physically Challenged, Elite and Relay as part of a continuing effort to provide the best possible race experience for all women. Selected cities within the Series will also include "youth focused" triathlons.
Charities Benefit Too -- TREK WTS is the Official Partner of 'Team Survivor'
On the Charity front, The TREK Women's Triathlon Series is partnering with Team Survivor, a non-profit 501(c)3 organization for women who have a present or past diagnosis of cancer.  Team Survivor provides these women with free group exercise, health education classes and support programs.  The TREK Women's Triathlon Series and Team Survivor allow women in the program to train, receive complimentary race registration for their first triathlon and benefit from special race day support.
And on race day, the women of Team Survivor stand together at the starting line, with the support of the thousands of other women in the race.
Other Sponsors
Trek Bicycle Corporation, the Series' title Sponsor, is proud to partner with Platinum Level sponsors MassMutual Financial Group and BIC® and Jelly Belly Sport Beans® in the Silver Level category.
2009 TREK WTS markets will also include:
o    Chicagoland
o    Colorado
o    Las Vegas, Nevada
o    New England
o    New York Metro
o    Northern California
o    Seattle, Washington
o    Southern California (Los Angeles County)
o    Walt Disney World® Resort (FL)
In addition to her role with The TREK Women's Triathlon Series, Sally Edwards is also CEO of HeartZones USA, an inspirational speaker and a best-selling author of 22 books on triathlon and fitness training.  HeartZones is the Preferred Training Programs of the TREK Women's Triathlon Series.  www.heartzones.com
For information on the TREK Women's Triathlon Series, and/or to be added to the Series mailing list, go to www.trekwomenstriathlonseries.com or, for further information, call 877-221-9665 (toll free).
The TREK Women's Triathlon Series is a property of The Xxtra Mile LLC, a women's and girls' active lifestyle company based in New York City. Its properties currently include the TREK Women's Triathlon Series, Team Future™, a mentoring and training program for women and girls, and BRAIDS™, a think pink tank for women's and girls' active lifestyle initiatives. Trek is a registered trademark of the Trek Bicycle Corporation.