New Study Shows Probiotic Strain Effective in Boosting Immune Response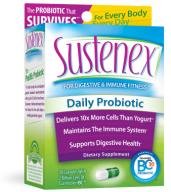 The study measured the changes in blood TNF-alpha levels upon exposure to adenovirus and influenza A in 10 healthy adults prior to and following a 30 day regimen of GanedenBC30, which is marketed as a dietary supplement called Sustenex and is also available in a variety of fortified packaged foods.  Results showed a 250% increase in TNF-alpha levels with adenovirus and a 1709% increase in TNF-alpha levels with influenza A after subjects took the probiotics for a period of 30 days.  Increased production of TNF-alpha in response to viral exposure indicates a heightened immunological effect.
Colds and flu are the most common illnesses among humans.  They have significant health and economic consequences, especially among young children, the elderly, and people with underlying or chronic conditions.  Every year, an average of 5 to 20 percent of people in the U.S. contract the flu, more than 200,000 people are hospitalized with flu-related complications, and approximately 36,000 people die from the flu.  It is also estimated that 1 billion colds occur annually in the U.S.
"These results demonstrate the ability of GanedenBC30 to boost the immune system of healthy adults against viruses that cause some of the most common human illnesses," said Mira Baron, M.D., author of the study.  "The study helps support the long-suspected belief about the beneficial effects of GanedenBC30 on the immune system and adds to the emerging body of evidence that probiotics can benefit healthy people as well as those with specific health issues.
Probiotics are live, beneficial microorganisms similar to the "friendly" bacteria found naturally in the body's digestive system and have best been known for their ability to support the body's digestive system by helping to reduce symptoms of digestive disorders such as irritable bowel syndrome (IBS), diarrhea, gas, and bloating.  Researchers have long postulated the role probiotics play in boosting immune function through promoting a healthy bacterial ecosystem in the digestive tract, which comprises approximately 70 percent of the body's immune system, a hypothesis supported by the current study.
"The results of this research are interesting and set the stage for the continued study of the effects of the GanedenBC30 strain of probiotics on the immune system," said Dr. Justin Sonnenburg, an assistant professor of microbiology and immunology at the Stanford University School of Medicine, who has reviewed the study's findings.  "The standard practice today is for people to take medicine to achieve symptomatic relief of colds and flu, but this research hints that healthy adults may be able to boost their immune system to potentially ward off infection and prevent such illnesses."
The study points out that different strains of probiotics have different inherent properties, suggesting that the unique ability of GanedenBC30 to survive common conditions that can potentially kill other probiotics before they can have a beneficial effect, such as manufacturing conditions, extreme temperatures, and the harsh gastric environment, may contribute to its ability to support the immune system.  Dr. Ken Alibek, M.D., Ph.D., Sc.D., an infectious disease, microbiology, and immunology expert who has studied Bacillus coagulans extensively, believes that the strain may be the most ideal in existence, noting that "no other probiotic has the ability like that of Bacillus coagulans to survive the challenges probiotics face in reaching the intestinal tract where they can do good" and added that "once there, no other strain is as prolific in producing the beneficial by-products responsible for many of the benefits of probiotics."
"This study is another step forward in our understanding of probiotics and the many health benefits they can deliver," said Andrew Lefkowitz, CEO of Ganeden Biotech, which helped fund the study through a research grant and has completed a total of seven clinical trials using GanedenBC30, including trials in immunity, IBS, intestinal gas, Crohn's disease, osteoarthritis, and rheumatoid arthritis.  "We will continue to fund research investigating the benefits of GanedenBC30 and its ability to improve the quality of life."