Tuskegee University President Announces Retirement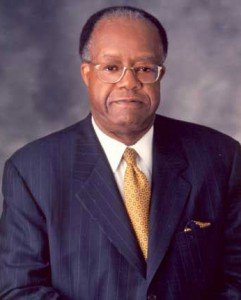 In his 28-year tenure, Dr. Payton has guided the University successfully through three, 10-year cycle, institution-wide, University accreditations by the Southern Association of Colleges and Schools (SACS); completed major capital fund campaigns, beginning with the institution's centennial campaign (100th Year), which had a goal of $20 million, but had only raised $9 million when Dr. Payton arrived in August 1981. He quickly geared up an augmented fundraising team which completed the campaign at $15 million more than the original goal. The larger campaigns led by Dr. Payton included the completion of a $150 million Capital Campaign, which raised $169 million, and a $60 million Legacy Campaign, which raised in excess of $74 million.
"Dr. Payton took on some tough actions at the outset of his presidency," said Dr. Brimmer, "actions which needed to be taken if the University were going to move to the new and stronger level envisaged by him." These included changing the name of the school from Tuskegee Institute to Tuskegee University, closing the hospital that was draining the University of funds and distorting its mission; restructuring the academic programs into five colleges and reorganizing all programs; developing/constructing the Tuskegee University Kellogg Hotel and Conference Center; launching the University's first Ph.D. programs (Material Science and Engineering and Integrative Biosciences); establishing/constructing the new $30 million Tuskegee University National Center for Bioethics in Research and Health Care; constructing 500-bed apartments for student on-campus living; building the new academic, research and training facility for the School of Veterinary Medicine; reconstructing and renovating the entire campus, including the historic buildings, new parking, roadways, library, science building, and enclosing the entire campus with beautiful brick and cast-iron fences and gates, including dramatic new sets of campus entrances and exits; and constructing a new $15 million facility for the College of Business and Information Science. During his tenure, more than $350 million have been invested in campus construction and infrastructure, and the University's endowment grew from under $15 million to over $102 million, by July 2007.
Dr. Payton, a native of Orangeburg, S.C., holds earned degrees from South Carolina State University (B.A.), Harvard University (B.D.), Columbia University (M.A.) and Yale University (Ph.D.). He came to Tuskegee University from the Ford Foundation in New York City, where he served as Senior Program Officer in Higher Education and Research for nine years. Dr. Payton has served on many corporate boards such as ITT Corporation, Sonat Corporation, AmSouth Bank (now Regions) and Praxair Inc., among others in the business world. He has also served on the boards of many volunteer organizations, including serving as Chairman of the Advisory Council of the Association of Governing Boards for Colleges and Universities; Chairman of the Lowndes County Public School Science and Math Program sponsored by the General Electric Corporation; and currently serves as Chairman of the Presidents of the United Negro College Fund, and Chair of the Council of Presidents of the Southern Intercollegiate Athletic Conference (SIAC). In recognition of his leadership, intellectual and scholarly achievements, he is the recipient of nine honorary doctorates and many other honors.