ROSE PARKER is coming to Houston & determined to speak out against Domestic Violence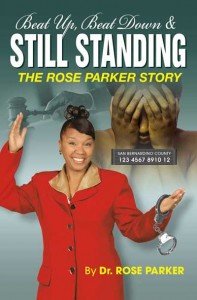 Since the "unveiling" of her book, Beat Up, Beat Down and STILL STANDING the Rose Parker Story, Dr. Rose has been throughout United States, sharing her life story,  promoting her book of HOPE and speaking out against domestic violence.
Dr. Rose is one of the most sought after speakers in the country.  She made history on December 7, 2000 from a "life sentence" by former California Governor Gray Davis.  The governor released statements regarding the laws not being in place to protect Miss Parker until 1992.  Rose completed 15 years of incarceration at the California Institution for Women Prison in Chino , after she was convicted of killing her abusive boyfriend on March 27, 1986.  Exactly 23 years later, Rose is in Atlanta , GA.  Rose is still waiting on Governor Schwarzenegger to approve her pardon.
Joining Dr. Rose on this tour is her husband of six years, Apostle M. P. Sterling, D.D. founder of KOGAPMI, House of Joseph Training Center, Kingdom Of God Bible College to name a few.  Included is Dr. Rose's schedule.  If you, your church, organization, school or university would like to Dr. Rose to come to your city, please contact us today.
For Exclusives Interviews, Press Conferences or more information on Dr. Rose Parker, including book signings, speaking engagements, or Saving Our Women, Contact: Ms. Washington (Management Firm representing Dr. Rose)  or Monica Link (PR) at 313. 461-3024 at info@globalmanagementsynergies.com.  www.globalmanagementsynergies.com or call 248.579.3010.
On Tuesday, March 24, 2009 @1pm EST  on WE-TV Network will re-air Women Behind Bars. The Rose Parker Story a Documentary.
Dr. Rose has appeared on several "National" shows such as MONTEL, The Potters Touch with Bishop TD Jakes, and Niteline, Living In Fullness Every Day with Pastor Ron Gibson; Let There Be Light; TBN - Joy In The Morning/Behind the Scene. Rose was featured story for CNN ABC, NBC, KCAL and more.
Her book, destined to be #1 has been featured in several magazines i.e. A Christian Place, Global Faith Magazine and also the cover and featured story for "Urban Lyfestyles Magazine" January 2008.  Rose has been cover and featured story for numerous major newspapers including LA Times, Press Enterprise; Daily Journal; Black Voice News; SB Sun, Daily Bulletin; IV News; SF Chronicle; Sacramento Bee; Sunday Morning News as well as articles & Stories in Washington Post and USA Today The Word News; Sacramento Observer; LA Focus; Sentential and more.
Dr. Rose received the Hall of Fame-Black & Gold Award for Community Service from the Association of Black Correctional Workers, 4th Humanitarian Award in 2000, and a Commendation for Endurance Award, along with numerous Honors, Accomplishments and Certificates.  She has an Honorary Doctorate of Divinity and several degrees.  Rose is a Behavior Modification Educator & Community Health Outreach Worker.   And, she also holds a "Doctorate" in Christian Education and Counseling from Sacramento Theological Seminary and Bible College .
Saving Our Women is an International outreach and domestic violence organization that assist and ministers to those affected by domestic and family violence, teen dating violence, elder & child abuse and more.