M. D. Anderson Gives First Margaret Kripke Legend Award to Margaret Foti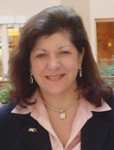 Margaret Foti, Ph.D., M.D. (h.c.), chief executive officer of the American Association for Cancer Research (AACR), today received the inaugural Margaret Kripke Legend Award from The University of Texas M. D. Anderson Cancer Center.
The Kripke Legend award recognizes scientific and medical leaders who have made extraordinary efforts to hire a diverse workforce, promote women to leadership roles, nominate women for awards and otherwise advance their careers. The award was established in honor of Margaret Kripke, Ph.D., a distinguished scientist who achieved many firsts for women at M. D. Anderson, culminating in her promotion to executive vice president and chief academic officer.
M. D. Anderson's Women Faculty Programs Office, which Kripke established before her retirement to improve recruitment, retention and development of women faculty, administers the award.
Foti was selected by an expert committee from among 25 nominees nationally. Foti has been chief executive officer of AACR, the world's oldest and largest cancer professional organization, since 1982. She co-founded Women in Cancer Research (WICR), a group within AACR that supports the professional advancement and scientific achievements of women. WICR is open to men and women.
"Margaret Foti has never been shy about using her position to promote women in every way within the organization," said Elizabeth Travis, Ph.D., associate vice president for Women Faculty Programs at M. D. Anderson. "Her efforts are seen in the diversity of her workforce and the development of Women in Cancer Research. As one of her nominators noted, Dr. Foti 'has made a difference in the fight against cancer and is committed to helping other women do the same and to ensuring they get credit for their endeavors.'"
Foti will deliver the inaugural Kripke lecture, Exceptional Women Leaders: Indispensable to Progress in Cancer Science and Medicine, today at 4 p.m. in M. D. Anderson's Hickey Auditorium.
"This award is very special to me because I believe so strongly that we need to recognize the achievements that women have made to science and encourage the next generation of young women interested in careers in cancer research," Foti said. "I am very proud of the AACR's long history of advancing the cause of women in science. From the beginning, women have been very involved in our organization and have made many wonderful contributions over the years. Supporting their efforts is a top priority for me individually and for the AACR. It is really a tremendous honor to receive this award named after one of the true pioneers in this area."
Foti started at AACR as editorial assistant for the journal Cancer Research. She was promoted four years later, becoming the youngest managing editor of a major scientific journal in the United States. After progressing through several management roles, Foti was named the first chief executive officer of the AACR.
Under her leadership, AACR has grown on all fronts. The association has added five journals, increased membership to 29,000 professionals and added 24 annual scientific meetings to its agenda. Throughout her career, Foti has strived to increase awareness of AACR and educate others of the latest discoveries made by scientists from all over the world.