Making strides: How much do you know about famous female athletes?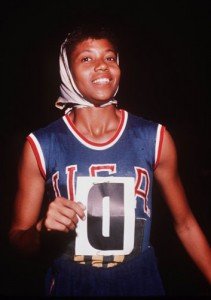 During the first modern Olympics, in 1896, women weren't allowed to officially compete.
In fact, during the ancient Olympics, women unabashedly weren't even allowed to be spectators. The penalty? Being tossed off a cliff.
Yes, times have changed, as the harsh anachronism of women's banishment from sports has been corrected.
Now, women jump, shoot baskets, kick soccer balls, throw javelins and run like the wind with the utmost guts, glory and glamour. Some women own teams now while others report on them in the sports media.
And when they are done playing, female athletes appear in television commercials - just like the men.
Talk about coming a long way.
In commemoration of Women's History Month, here is a sports trivia quiz highlighting the remarkable journey.
1. Who was the first woman recognized by the Pro Football Hall of Fame?
A. Marie Lombardi, wife of legendary Green Bay Packers coach Vince Lombardi
B. Virginia H. McCaskey, daughter of Chicago Bears founder George Halas and matriarch of the franchise today
C. Georgia Frontiere, owner of the St. Louis Rams
D. Lesley Visser, sports writer and broadcaster
2. Ann Meyers, current general manager of the WNBA's Phoenix Mercury and one of the greatest women's college basketball players in history at UCLA, married a Hall of Fame baseball player. Name him.
A. Jim Palmer, former Baltimore Orioles pitcher
B. Johnny Bench, former Cincinnati Reds catcher
C. Don Drysdale, former Los Angeles Dodgers pitcher
D. Dennis Eckersley, former Oakland A's relief pitcher
3. Babe Didrikson Zaharias, one of the most versatile and accomplished female athletes in history as evidenced by her being named Associated Press Female Athlete of the Year six times between 1932 and 1954, was the focus of a TV movie called "Babe" in 1975.
What actress played the role of Didrikson in the movie?
A. Diane Keaton
B. Susan Clark
C. Jill St. John
D. Lynn Redgrave
4. What was the real first name of Didrikson Zaharias, who won multiple Olympic medals in track and field and later became a professional golfer, in addition to being an outstanding softball player?
A. Joan
B. Barbara
C. Margaret
D. Mildred
5. Where did upstart race-car driver Danica Patrick place in her first Indianapolis 500, in 2005?
A. Second
B. Ninth
C. Fourth
D. 15th
6. Who was the first black woman to win a women's singles title at Wimbledon?
A. Althea Gibson
B. Serena Williams
C. Zina Garrison
D. Venus Williams
7. Who was the first American woman to win three gold medals in track and field at a single Summer Olympics?
A. Wyomia Tyus
B. Babe Didrikson Zaharias
C. Wilma Rudolph
D. Willye White
8. Which female Olympic gymnast played the role of "Peter Pan" on Broadway?
A. Kerri Strug
B. Cathy Rigby
C. Dominique Dawes
D. Shannon Miller
9. Who won the first MVP award in the WNBA?
A. Lauren Jackson, Seattle Storm
B. Lisa Leslie, Los Angeles Sparks
C. Cynthia Cooper, Houston Comets