Ella Joyce is a Rose Among Thorns
JGoode | 5/1/2009, 5:06 p.m.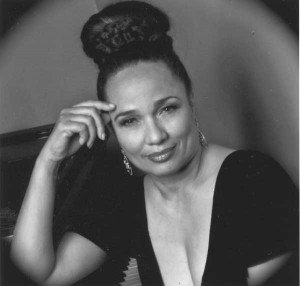 October 24, 2005 was the day that Rosa Louise McCauley Parks died and the day that caused Ella Joyce to become angry. Best known as the mother of the modern day civil rights movement, Parks, an African American woman, refused to give up her seat on a crowded bus in Montgomery, Alabama to allow a white person to be seated. Her action of civil disobedience sparked the Montgomery Bus Boycott, a protest in Montgomery, Alabama to oppose the city's racial segregation policy on the public transit system, and made her a national icon of racial injustice. Since 1955, her story has been told and retold but in all instances the accounts were not accurate. On October 24, 2005, a journalist was recalling her life and legacy and the ears of Ella Joyce perked up. For years and years Joyce had studied the life of Rosa Parks and because of their hometown connection she felt she and Parks were kindred spirits and that she knew her very well. When she heard misinformation be disseminated about Parks, Joyce was livid. She was so angry that she decided to do something about it.
Using her passion for writing and her desire to have accurate information about Parks be given, acclaimed actress Ella Joyce put pen to paper to research, create, and write a fitting tribute to Rosa Parks. Joyce said, "From the moment it was announced that Rosa Parks passed, I armed several TV sets with VHS tapes. I pushed the record button every time she was mentioned. I read something about her on the internet and world press every morning. I have collected hours and hours of live, precious information." As she collected that information, she began compiling her first monologue called "A Rose Among Thorns." "It is a love project. It's about giving back to the community and doing my part to keep our great legacies alive," said Joyce.
"A Rose Among Thorns" is a one woman performance starring Ella Joyce that is a little over an hour long. Staging is simple and intimate. Joyce says it is as if the audience is sitting down for tea with Parks as she tells her story. Already having performed more than 70 shows around the country since her first performance in 2007, Joyce has received standing ovations and admiration for her work. Relatives of Parks, who viewed the production, told Joyce it was if they were looking at Aunt Rosie. In the play Joyce shows the sides of the civil rights icon that everyone knows but then she also shows the sides that most of us do not know about Parks. "One of the biggest lessons I learned about Rosa by doing this piece was that she was truly, truly a religious woman, who walked in the word of God. I believe that has everything to do with why she was so anointed at this time in our history to do what she did."
The Ensemble Theatre, Anthony W. Hall, Jr., Missouri City Chapter of The Links, Inc., CenterPoint Energy, and H-E-B will play host to a one night only performance of Ella Joyce's "A Rose Among Thorns: A Dramatic Tribute to Rosa Parks" on Sunday, May 10, 2009 at 5:00pm at the 9th Annual Heart of the Theatre subscription drive celebration at the Wortham Theater. "We were happy to honor Ella Joyce with The Ensemble Theatre's 'Actor of the Year' Award in August, and we are delighted that she is returning to Houston," said Hasting Stewart, The Ensemble Theatre's board president. "She embraced the essence of a woman that humanized the world," added Eileen J. Morris, artistic director of The Ensemble Theatre. All Ensemble subscribers and those who purchase subscriptions leading up to the Heart of the Theatre performance are invited to attend the event at no cost. Individual tickets will also be available for purchase. Interested parties may log on to www.ensemblehouston.com or call The Ensemble box office at 713-520-0055.