Go from a Breakdown to a Breakthrough with Lisa Nichols – No Matter What!
JGoode | 5/1/2009, 4:46 p.m.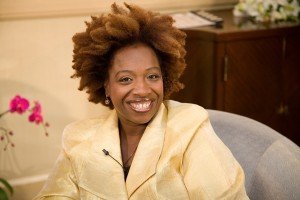 Life can be very hard. Presenting a myriad of challenges along the way, it can lead to indecision as to which way to turn and ending up just throwing in the towel. Giving up is not the answer. It is at that pivotal point that the spirit inside needs a jolt to excite all that is within. Providing that boost of energy is motivational speaker Lisa Nichols. On May 9, she will come to the University of Houston (U of H) to present 9 steps of living the life you love – no matter what!
In this thing called life, everyone has some trials they must endure and some burdens they must bear. At the end of the day an individual has two choices to make - allow defeat or use obstacles as stepping stones to success. Nichols believes in using trials to help an individual to achieve a favorable outcome in reaching his/her fullest potential. In her eyes this can be done when applying the law of no matter what. Compromised of 9 steps, the no matter what philosophy inspires as well as empowers people to always bounce back.
"Until we say 'No Matter,' what we are saying 'I wish,' 'I hope,' and 'I want.' The evening at the University of Houston is for those who say 'Okay I need to move from 'I wish' and 'I hope' to 'No matter what.'" Nichols continued, "…and I need some help. I need someone to inspire me………I need to be reminded of my greatness."
Getting into this new mindset takes a little bit of time and Nichols has developed a program that is outlined in her new book "No Matter What – 9 Steps to Living the Life You Love" to help in this process. In a converasational manner, she writes as if the reader is her best friend. Nichols uses her personal experiences that some have said would bring her down to befriend the world by assisting in overcoming struggles. "I share the techniques I learned to turn my breakdowns into breakthroughs," said Nichols. Throughout the book there are boxes. One is the 'You're Not Alone' box. The other box is an action box. Often times people will think their problems are unique to them and no one really understands. Nichols erases these negative thoughts by allowing readers to see where they are and let them know that 'no, you're are not alone.' After this realization comes the next logical step take action. The action steps, too, are sprinkled throughout the book and give readers steps that will physically move them from where they are to where they want to be.
"There is an area in your life where you currently live with the idea I wish, I hope, and I really want," said Nichols. This is the place where many Americans stay in limbo being too afraid of failure to take the next step so we stay in this waiting mode. "It is time to give the thought of failure an eviction notice," said Nichols. "Until we say no matter what, we are saying I wish, I hope, and I want. The evening at U of H is for individuals who need to move from I wish and I hope to no matter what."
Some tips attendees will get provide insight into the 9 steps of living the life they will love. One step is to develop the faith-in-yourself muscle. "Press the stop button on your mind's negative chatter!," exclaimed Nichols. Eliminate thoughts of not sizing up to everyone else. Put a stop to this with visual reminders of post-it notes of affirmations around your home and identifying your safe-space community. Another step is to grow the determination muscle. According to her book, this muscle will help people climb to their personal moutaintop, overcome personal crises-and to give them the strength to get beyond the discomfort, exhaustion and fear that's blocking their paths.
For the other 7 steps readers must take action. Take the action to go to your local bookstore and pick up a copy of Lisa Nichols' "No Matter What" then register for the No Matter What seminar on May 9, 2009 at the University of Houston in the Science, Research & Engineering Center Auditorium by logging on to www.nomatterwhattour.com. The seminar is free with the purchase of "No Matter What." Books may be purchased at the door.