Aquarium at Kemah Boardwalk Reopens with New and Improved Facility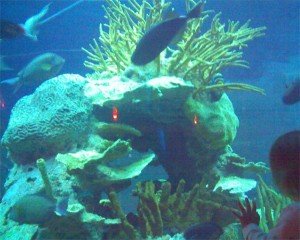 Aquarium exhibits are now home to a host of new and exciting species including Red-bellied Piranhas, Bamboo Shark, Archerfish, Spotted Gar, Emperor Scorpion visible under a black light, Freshwater Pufferfish, Alligator Snapping Turtle, MataMata Turtle, Poison Dart Frogs, Tarantulas and an Emerald Green Tree Boa, to name a few. In addition, the Stingray Reef, adjacent to Aquarium Restaurant, offers a new and improved experience with Southern Stingrays and Cownose Stingrays. Visitors can watch the Rays gracefully glide through the water and even pet and feed them. Guests will also enjoy a new Rainforest-themed exhibit with African Elephant and Lowland Gorilla animatronics.
Not only does Aquarium offer educational and interactive exhibits, but it now features a Birthday Party Zone, perfect for small or large groups to celebrate that special birthday. There are several Party Zone Birthday packages for 10 or more kids that include a birthday cake, Aquarium toy, party host, decorations, and a kids meal. Select packages also include a trip to the Sting Ray Reef and a visit from Aquarium mascots Sharkey and Octavious. Visitors also will enjoy the Treasure Chest Gift Shop which offers souvenirs, apparel, toys and stuffed animals.
Visitors can follow their visit with an unforgettable underwater dining adventure at Aquarium Restaurant. The specialty-themed restaurant features a 50,000 gallon tropical fish tank as its centerpiece and offers Kemah Boardwalk patrons a number of delicious options from gracious appetizers to fresh salads, and succulent seafood to aquatic-themed desserts.