Chelsee Hill Crowned Miss Prairie View A&M University 2009-2010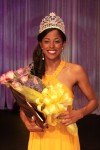 [caption id="attachment_8299" align="alignleft" width="100" caption=" Miss Prairie View A&M University 2009-2010 Chelsee Hill "]
Chelsee Hill was crowned Miss Prairie View A&M University 2009-2010, during the university's 40th annual scholarship pageant on April 22.  Selected from a panel of judges, Hill is a junior psychology major from The Woodlands, Texas and is a graduate of The Woodlands High School.
A third generation PVAMU student, Hill was crowned before a crowded audience in the university's Opal Johnson Smith Auditorium.  Hill is a former PVAMU championship track athlete and is involved in the university's chapters of the National Association of Black Psychologists and the National Honor Society for Psychology.
Upon graduation she plans to pursue a career as a child psychologist.  She is the daughter of Chandra Collins Hill and Mark Hill.
Latravia Davis placed first runner-up and Alyssa Rhodes was chosen as second-runner up.