History Making Supreme Court Judge – Sonia Sotomayor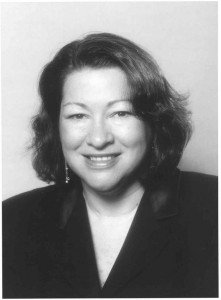 At Princeton, she continued to excel, graduating summa cum laude, and Phi Beta Kappa. She was a co-recipient of the M. Taylor Pyne Prize, the highest honor Princeton awards to an undergraduate. At Yale Law School, Judge Sotomayor served as an editor of the Yale Law Journal and as managing editor of the Yale Studies in World Public Order. One of Sotomayor's former Yale Law School classmates, Robert Klonoff (now Dean of Lewis & Clark Law School), remembers her intellectual toughness from law school: "She would stand up for herself and not be intimidated by anyone." [Washington Post, 5/7/09]
A Champion of the Law
Over a distinguished career that spans three decades, Judge Sotomayor has worked at almost every level of our judicial system – yielding a depth of experience and a breadth of perspectives that will be invaluable – and is currently not represented -- on our highest court. New York City District Attorney Morgenthau recently praised Sotomayor as an "able champion of the law" who would be "highly qualified for any position in which wisdom, intelligence, collegiality and good character could be assets." [Wall Street Journal, 5/9/09]
A Fearless and Effective Prosecutor
Fresh out of Yale Law School, Judge Sotomayor became an Assistant District Attorney in Manhattan in 1979, where she tried dozens of criminal cases over five years. Spending nearly every day in the court room, her prosecutorial work typically involved "street crimes," such as murders and robberies, as well as child abuse, police misconduct, and fraud cases. Robert Morgenthau, the person who hired Judge Sotomayor, has described her as a "fearless and effective prosecutor." [Wall Street Journal, 5/9/09] She was cocounsel in the "Tarzan Murderer" case, which convicted a murderer to 67 and ½ years to life in prison, and was sole counsel in a multiple-defendant case involving a Manhattan housing project shooting between rival family groups.
A Corporate Litigator
She entered private practice in 1984, becoming a partner in 1988 at the firm Pavia and Harcourt. She was a general civil litigator involved in all facets of commercial work including, real estate, employment, banking, contracts, and agency law. In addition, her practice had a significant concentration in intellectual property law, including trademark, copyright and unfair competition issues. Her typical clients were significant corporations doing international business. The managing partner who hired her, George Pavia, remembers being instantly impressed with the young Sonia Sotomayor when he hired her in 1984, noting that "she was just ideal for us in terms of her background and training." [Washington Post, May 7, 2009]
A Sharp and Fearless Trial Judge
Her judicial service began in October 1992 with her appointment to the United States District Court for the Southern District of New York by President George H.W. Bush. Still in her 30s, she was the youngest member of the court. From 1992 to 1998, she presided over roughly 450 cases. As a trial judge, she earned a reputation as a sharp and fearless jurist who does not let powerful interests bully her into departing from the rule of law. In 1995, for example, she issued an injunction against Major League Baseball owners, effectively ending a baseball strike that had become the longest work stoppage in professional sports history and had caused the cancellation of the World Series the previous fall. She was widely lauded for saving baseball. Claude Lewis of the Philadelphia Inquirer wrote that by saving the season, Judge Sotomayor joined "the ranks of Joe DiMaggio, Willie Mays, Jackie Robinson and Ted Williams."