Tickets On Sale Now for the 60th annual H-E-B Holiday Parade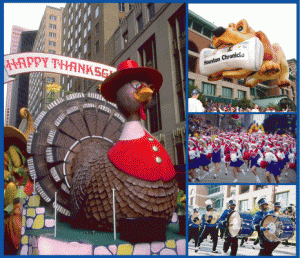 Prime seating is now available for the 60th annual H-E-B Holiday Parade, which takes place at 9 a.m. on Thursday, Nov. 26 in downtown Houston. Thanksgiving Day marks the Parade's 60th year to wind through the streets of downtown Houston. In honor of the anniversary, the Parade themed "Sixty Years of Dreams Come True," will showcase all-new floats, gigantic balloons, and dazzling performances by marching bands, cheerleaders, dance groups and more. Thousands of Houstonians and visitors are expected to line the streets of downtown for one of the city's longest-running holiday traditions.
Early bird pricing for Grandstand Seats in the TV Zone is $18 through Nov. 15. After this date, Grandstand seats will be $22. Reserved Turkey seats are $11 through the Nov.15 and then $14 after Nov. 17. General admission is free. A limited number of reserved seats are available at www.hebparade.com. For more information about the parade, including the parade route, reserved seating and featured entertainment, call (713) 654-8808 or visit www.hebparade.com.
Sponsors for the 60th Annual H-E-B Holiday Parade include: H-E-B Grocery Company, The Arrow Classic Rock, 93.7 FM, Borden Milk Products, , Hilton Americas Houston Hotel, Houston Astros, Houston Chronicle, Keystone Concrete Placement, KHOU-TV, Channel 11, KTRH 740 AM, Laz Parking, McDonald's, Moody Gardens "The Gift of Christmas," Radio Disney 1590 AM, Sunny 99.1 FM, Theatre Under the Stars "The Sound of Music", and Wells Fargo.
The H-E-B Holiday Parade is produced by the Houston Festival Foundation, Inc., a 501 (c) (3) non-profit organization. Proceeds from reserved seating ticket sales benefit the Festival education programs reaching more than 1,471 public schools each year and the Houston Chronicle Readers are Leaders literacy program. The parade is televised live on KHOU-TV/Channel 11 (CBS), as well as in several major cities throughout Texas and beyond.