Hot Deals and Cold Winters in Park City, Utah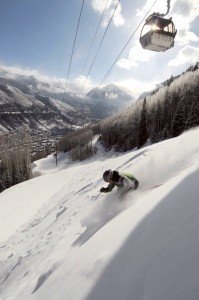 Rev up for a cold winter with hot deals and incentives throughout Park City during the 2009/2010 ski and snowboard season. From free lift tickets and meals to bonus spa treatments and lodging nights, there's never been a better time to book a winter vacation to Park City. Skiers and snowboarders can save time (and cash) with an early morning flight into the Salt Lake City International Airport and strap into winter savings less than one hour after arriving to Utah. Check out these deals below for affordable lodging options, perfect for the value-savvy traveler.
*QuickSTART (Ski Today and Ride Today)
Free lift ticketwww.parkcityinfo.comHop on an early-morning flight to Salt Lake City International Airport and start your ski or snowboard vacation on us with a free lift ticket! Show your boarding pass, redemption voucher and a valid out-of-state ID at any of the three Park City-area ski resorts and receive a free same-day lift ticket.
Note: Online pre-registration required. Visit www.parkcityinfo.com to register. Offer valid resorts' opening day – December 24, 2009; January 3 – February 12, 2010; March 28 – April 11, 2010.
*Ski Free, Stay Free
Participating hotels throughout Park Citywww.parkcityinfo.comSuper charge your early-season vacation with a free night of lodging and a free day of skiing per person at participating hotels throughout Park City. Purchase three (3) nights of lodging and three (3) days of lift tickets and receive and extra night's lodging and extra day's lift tickets at any of the three Park City-area ski resorts for free. No strings attached.
Note: Valid only December 5-18, 2009 and March 28 – April 11, 2010; visit www.parkcityinfo.com for a list of participating hotels.
*Third Night Free
Starting at $79 per night
Yarrow Resortwww.yarrowresort.comNeed to get away for a hot minute and don't want to break the bank? Book a room at the Yarrow Resort for two (2) nights and receive an additional third night for free now through December 17, 2009. Deluxe rooms at the Yarrow Resort start at $79 per night. The Yarrow Resort is conveniently located on Park Avenue and one block to Park City's free public transportation bus stop.
Note: Package valid November 5 – December 17, 2009.
*Ticket to Ride (or Ski)
$215 per person, per night
Treasure Mountain Innwww.treasuremountaininn.comStop paying premium rates during the holiday period with Treasure Mountain Inn's Ticket to Ride (or Ski) package. Valid over Christmas and New Years, the Ticket to Ride (or Ski) package provides discounted savings on the big components of a ski trip. Perched at the top of Main Street in Historic Old Town, Treasure Mountain Inn is a convenient hotel that provides walking access to dozens of shops, restaurants and bars.
Package includes:
-Round-trip airport transfers (an $80 value)
-Breakfast (approximately a $15 value)
-Daily lift tickets at choice of three Park City-area ski resorts (approximately an $80 value)
-Lodging (a $40 value after factoring in the above amenities)
Note: 4-night minimum; package rate not available on premium rooms during holiday period.
*Free Daily Spa and Breakfast