Honda Battle of the Bands Announces Showcase Line-Up for 2010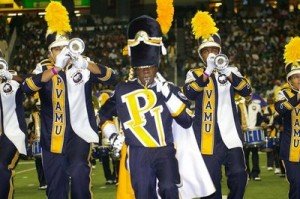 Albany State University "Marching Rams" (Albany, Georgia)
Clark Atlanta University "Mighty Marching Panthers" (Atlanta, Georgia)
Florida A&M University "Marching 100" (Tallahassee, Florida)
North Carolina Central University "Marching Sound Machine" (Durham, North Carolina)
Prairie View A&M University "Marching Storm" (Prairie View, Texas)
Southern University "Human Jukebox Marching Band" (Baton Rouge, Louisiana)
Tuskegee University "Marching Crimson Pipers" (Tuskegee, Alabama)
Virginia State University "Trojan Explosion Marching Band" (Petersburg, Virginia)
The Honda Battle of the Bands is the only event where the HBCU marching bands act as the show headliners. The Prairie View A&M University marching band, the Marching Storm will have the opportunity to perform for 12 minutes and showcase their musical skills, dancing talents and creativity. "The Honda Battle of the Bands is designed to showcase the amazing talents of student musicians and celebrate the musical prowess represented at our nation's HBCUs," said Marc Burt, Senior Manager, Office of Inclusion and Diversity for American Honda. "This event is not only about entertainment, it's also about highlighting the importance of music education and shining a spotlight on vital skills which are learned through band participation like effective communication and teamwork. Honda is proud and honored to be able to bring this enriching experience to every marcher on the field and every band fan in the stands."
Marking its eighth year, the Honda Battle of the Bands is the only national scholarship program that showcases an important facet of HBCU heritage and culture – music education. The eight winning band programs chosen to participate in this year's Invitational Showcase will be awarded $20,000 by American Honda for their music programs in addition to the $1,000 grant they received for participation in the pre-qualifying fall campus event tour. Through this program Honda is awarding a total of $205,000 in scholarships to HBCU music programs for the 2009-10 academic year, and since the beginning of the program, has awarded grants in excess of $1 million.
The Selection Process
Fondly referred to as "the Super Bowl for Black College Bands," the Honda Battle of the Bands will welcome close to 2,000 of the nation's finest student-musicians to the Georgia Dome in January. Judged by HBCU presidents, band directors and fans on their showmanship, musicianship and fan interaction, the eight bands were chosen from a group of 45 bands and competition was stiff. On-Line fan votes accounted for one third (1/3) of the selection criteria, with band directors' and school presidents' votes accounting for the remaining thirds. Band directors and school presidents were not allowed to vote for their own institutions.
The Fox Music Experience
The Fox Music Experience is returning for the third year in a row. Designed as a unique music internship and immersion program, the Fox Music Experience works in conjunction with the Honda Battle of the Bands to help expose HBCU student musicians to the broader world of music and entertainment. The program, which launched three years ago, offers one lucky Invitational Showcase student musician the opportunity to spend a few weeks in the summer working on the Twentieth Century Fox studio lot in Los Angeles learning film and television music production first-hand. Students are selected by popular online vote. Band fans can go to www.HondaBattleoftheBands.com now through January 8th to vote for their favorite prospective intern.
The Honda Battle of the Bands web site (www.HondaBattleoftheBands.com ) is the official online destination for all HBOB information including, Invitational Showcase updates, biographical information on the eight Showcase bands, information on the FOX MUSIC EXPERIENCE summer internship program, footage from 2009 performances and downloadable broadcast video and high resolution photos for media use and distribution.
Group and individual tickets to see the Marching Storm in action are on sale now, and can be purchased for $10-to-$12 by visiting www.HondaBattleoftheBands.com , through Ticketmaster or via the Georgia Dome box-office.
For more information about the program please visit www.HondaBattleoftheBands.com .