Bourn Wins Rawlings Gold Glove Award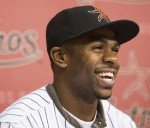 In an announcement made by Major League Baseball today, Houston Astros center fielder Michael Bourn was named as one of three National League outfielders to earn the Rawlings Gold Glove Award for the 2009 season. Bourn will be available to the media today at 3:30 p.m. CT via conference call. Season-credentialed media through the Astros or MLB can participate by calling 1-800-537-1097. You will then be prompted to enter a participant code, which is: 542909.
The award is the first for Bourn and the first for an Astro since Brad Ausmus won the Gold Glove at catcher in 2006. An Astros outfielder has not been named as a Gold Glover since Astros great Cesar Cedeno won the award in five straight seasons from 1972-76. This marks the 20th time an Astro has received a Gold Glove. Bourn becomes just the seventh player in franchise history to receive this honor.
"Michael is a difference-maker in center field," said Astros General Manager Ed Wade. "His range, routes and instincts are unbelievable. It's tough to quantify how many runs he saves with his defense. This won't be Michael's last Gold Glove. We're fortunate to have him."
Bourn, 26, finished his 2009 campaign with a .992 fielding percentage in 154 games (150 starts) as the Astros everyday center fielder. He ranked tied for sixth among NL outfielders in games, while ranking third in total chances (385) and putouts (371). His 11 outfield assists ranked tied for fifth in the NL and were the second-most by an NL center fielder in 2009.
At the plate, Bourn hit .285 (173x606) with a .354 on-base percentage and posted 61 steals this season. His play earned him the 2009 Astros Team MVP, awarded by the Houston Chapter of the Baseball Writers Association of America. The 2009 campaign was his second in an Astros uniform, after being acquired by Houston as part of a trade that sent right-handed pitcher Brad Lidge and infielder Eric Bruntlett to Philadelphia.
The Rawlings Gold Glove Awards are voted on by National and American League managers and coaches, who are responsible for selecting the winners of their league prior to the conclusion of the regular season. Rawlings has been awarding Gold Gloves since 1957.