Catching Up with Keesha Sharp
JGoode | 11/12/2009, 9:12 p.m.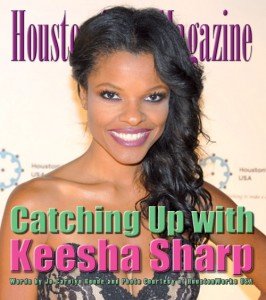 When she entered the room, she was wearing jeans, a tank top, blazer, and heels. Keesha Sharp appeared to be very unassuming, she is a stylish woman on the go. Although style is one of her attributes, it is not the whole story of Keesha Sharp. A little bitty something both in height and weight, she has a whole lot of talent packed inside a tiny frame. In our sit-down interview I got to know a side of Ms. Sharp that the world may not know.
Many fans associate Sharp with the hit television show "Girlfriends." For four years, she brought Monica Charles Brooks-Dent, the girlfriend turned wife of William Jerrowme Dent, to life. (According to his mother on the show Jerrowme is spelled with a silent "w" and two "r"s.) When the show ended in 2008, many fans were left with so many questions. One prominent question was what happened to Sharp? The answer to this question is not short since a lot of things have happened and are happening for Sharp. "Oh gosh," said Sharp as she began to list all the things she has been up to. The good news is that Sharp will soon be on the big screen and the small screen as well in the New Year. In January she will launch a new television show "Are We There Yet?" based off the 2005 movie starring Ice Cube, and a new movie "Second Story Man."In addition to acting, she has been creative behind the scenes writing scripts that she has pitched to several networks and working on a special project about Eartha Kitt.
Acting and writing are not Sharp's only talents. She is very musically gifted. In fact, she is so talented that music was almost her career. Upon high school graduation Sharp thought her destiny was to be in the orchestra and wanted to pursue that interest in college. "It was between that and musical theater. I chose not to go the route of being in orchestra, and I decided that I wanted to do theater," said the actress who also plays the piano, cello, and clarinet, as well as sings. "I don't get to do that much." She admits that her musical bug creeps on her whenever she sees an orchestra perform live.
She is an actress, writer, and is musically gifted but that is not all. Sharp is the perfect example of not judging a book by its cover. From her cover I think little and cute, but little and cute can kick your butt. Sharp once was a serious kick boxer. She was so good at it that again her career path could have easily deviated from acting. "That was something that I was actually being trained to be, a professional boxer," said a smiling Sharp. Actively scouted six years ago due to her fast speed, Sharp made the decision to stop training because her desire for acting was so overwhelming. That along with the fact that she didn't want to look like a body builder for fear it might limit her as an actress are the reasons her physical fitness routine now is primarily hiking.
The need to exercise and be physically fit is in line with her passion-health. Sharp believes in eating the way God intended for us to eat. Through her website www.fishersofheatlth.com she educates the community. "I just want, especially our community, to learn about how we are suppose to eat," said a passionate Sharp. "We are wondering why all these diseases are happening to us. It is because we are not treating our bodies the way we are supposed to and it is because people don't know." In her dissemination of the "right way" to eat she lets it be known that everything she says is something that she herself does and she is only offering information for the consumer to research themselves so they can become more educated about what they put in their bodies.
Keesha Sharp is nothing like the character she portrayed on "Girlfriends." Though she does have many dimensions, being mean, like her character Monica, is not one of them. Stay caught up on Keesha Sharp by logging on to her website www.keeshasharp.com.