Breast 'Awareness' Trumps Self-Exams, Docs Say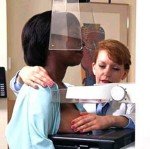 She'd found the lump during a self-examination.
Fortunately, Cordsen's mom had found the cancer so early that she was able to have a lumpectomy and didn't need chemotherapy or radiation. That's why, today, Cordsen checks her own breasts every day in the shower.
"It was such an inspirational thing to find out that it saved her life, that's for sure," said Cordsen, 57, who submitted her story to CNN's iReport. "It's just important, to want to live and take care of yourself."
New guidelines from the U.S. Preventive Services Task Force say that women age 40 to 49 don't need to have routine mammograms anymore and that breast self-exams aren't recommended in general. The group found no evidence that self-exams reduce breast cancer death rates, and it discourages teaching women how to examine themselves.
New trends in self-exams
Although major cancer-awareness groups such as the American Cancer Society and Susan G. Komen for the Cure disagree with the new guidance on mammograms, continuing to recommend routine mammograms for women 40 and up, guidance on self-exams has been trending toward the task force's suggestions.
Both the American Cancer Society and the Komen foundation have been advocating that women be "aware" of their breasts rather than do a formalized self-examination procedure a few days after the menstrual period once a month.
The American Cancer Society makes no recommendations for how often or in what capacity a woman should check her breasts, just that she should be aware of any changes, said Dr. Len Lichtenfeld, deputy chief medical officer.
Being told to do this formal procedure resulted in "a huge guilt trip" for women who developed breast cancer, he said.
"They said, 'I wasn't good enough. I didn't do it often enough. I didn't do it right. It's all my fault,' " he said. "That was pretty anxiety-provoking for a lot of women."
When Cordsen did find lumps, which turned out to be benign, she felt "scared to death." Still, she's shocked that the task force and several organizations would recommend against teaching self-exams.
"It isn't going to affect me at all. I'm not going to stop searching," she said. "I'm just worried it's going to affect a lot of kids coming up. They're just going to grow up not knowing how important it is."
The Komen organization has been focusing on letting women know what they should be looking for, rather than the procedure itself, said Susan Brown, director of health education. Here's the group's guidance.
"We're not telling people to do it or not to do it," she said. "We're focusing on what's normal for you."
The existing research on the subject does not conclusively support breast exams. The Komen Web site cites a meta-analysis of the the two largest randomized controlled trials, one from China and one from Russia. These trials found no difference in breast cancer deaths after 15 years between women who regularly self-examined and women who did not. Moreover, those who did check themselves had almost twice as many biopsies with benign results as those who did not.