Larry and Deslandes Win the Texas Crowns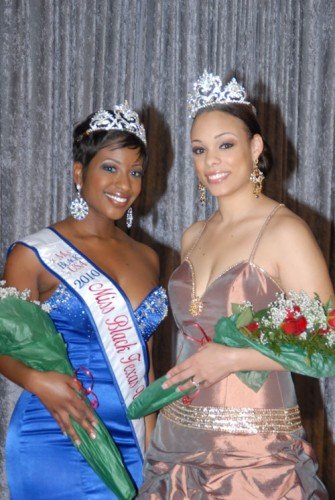 Stars always shine brightly in Texas, but for two young beauties, the stars are even more radiant. On Sunday, November 22, 2009, Zakiya Larry and Aisha Deslandes were crowned Miss Black Texas USA 2010 and Ms. Black Texas USA 2010, respectively.
Larry is a graduate of Texas Southern University with a Bachelor of Arts in broadcast journalism. In addition, she is a former Miss Texas Southern University. She currently serves as the communication director for the March of Dimes in Austin, TX. Faced with the issue of premature babies on a daily basis stimulated her desire to be more actively involved in drawing attention to this issue. She believes that by starting at the root of the premature baby problem to raise awareness, life can be exponentially improved for moms, babies, and the community at large.
As the Miss Black Texas USA winner, her prize package includes a $3,000 scholarship to an accredited college or university, photo package from Arthur Garcia of Select Studios, a coordinated outfit from Village Girls Boutique, dental services from Ideal Smiles, cosmetics from Lamik, gift certificate from LaPaz Day Spa, and more. Larry automatically becomes a delegate for the coveted title of Miss Black USA 2010 and will compete during the summer of 2010. Other recognition received by Miss Larry include fitness and talent award winner.
Miss Black Tomball USA Dymond Hayes was named first runner-up. She also won the best evening gown and interview award as well as Miss Photogenic. In a competition held before the pageant that was based on community service, leadership, and fundraising, Miss Hayes was the winner and received the Director's Award for fundraising. Miss Black Texarkana USA, Ocielia Gibson was second runner-up. Miss Gibson also won the Overall Director's Award. Miss Black Dallas USA, Ashley Thomas was third runner-up. She was also the Director's Award winner for community service. Miss Black Harris County USA, Tarsha Hardy was selected as fourth runner-up. She also was Miss Congeniality, Miss Hospitality (for selling the most tickets to the pageant) and Miss Cover Girl (for selling the most ads in the souvenir book).
Miss Black Beaumont USA Tangela Stephens, Miss Black Cypress USA La Mary Curry, Miss Black Harleton USA Nina Derrick, Miss Black Houston USA Roneshia Ray, Miss Black Missouri City USA Savannah Williams (Director's Award – Leadership winner), and Miss Black Pearland USA Margryette Boyd completed the field of 11 contestants in the 2009 Miss Black Texas USA pageant.
Aisha Deslandes made history as the first Ms. Black Texas USA. She is the wife Cedric Wayne Deslandes II and has one daughter, Layla Samone. Not only is Deslandes an inspiring pharmacy student, she is a minister at the International House of Praise under the leadership of Apostle David Jones. She believes illiteracy is now one of the greatest threats to America today. During her reign she plans to continue promoting active and healthy reading skills among today's youth, helping to prevent further illiteracy damage in their future.
Ms. Black Harris County USA Crystal Hadnott (Talent and Fitness winner) was named first runner-up. Ms. Black Houston USA, Clemea Donaldon (Interview winner) was second runner-up. Ms. Black Dallas USA Roneetha Adams, Ms. Black Fort Worth USA Sheila Hamilton, Ms. Black Southeast Texas USA Carla Carter rounded out the field of contestants for the Ms. Competition.
All contestants received gifts from Tiffany & Co. – Houston Galleria and Macy's.
Apply today to be part of Texas royalty. The Miss Black Texas USA Organization has pageants for young ladies age 3 and up. They are Miss Black Texas USA Tiny Tot (ages 3-4), Miss Black Texas USA Princess (ages 5-10), Miss Black Teen Texas USA (ages 13-18), Miss Black Texas USA (ages 18-27), and Ms. Black Texas USA (ages 21 up). The Miss Black Texas USA Organization is a part of the Miss Black USA Organization and Black All-American Pageant Systems, Inc. It operates as a 501 © 3 organization.