Houston Native John Biggers' Work Featured at Swann Auction Galleries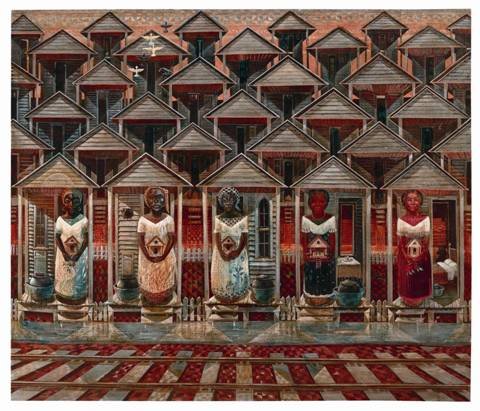 [caption id="attachment_13692" align="alignleft" width="480" caption="John Biggers's powerful 1987 oil and acrylic painting titled Shotguns"]
The image that graces the cover of the auction catalogue for Swann Galleries' sale of African-American Fine Art on Thursday, October 8 is John Biggers's powerful 1987 oil and acrylic painting titled Shotguns. The Biggers painting—probably the artist's best known work—is one of 116 paintings, sculptures, prints and drawings from notable collections and estates to be offered in the auction.
"We are very pleased to offer this celebrated work by such an influential artist," said Nigel Freeman, Director of Swann's African-American Fine Art Department. "This painting is widely considered to be an icon of American painting, and has even drawn comparisons to Grant Wood's American Gothic."
Remaining in a private collection since it was directly obtained from the artist, the painting gets its title from the shotgun-style houses it depicts. These narrow houses set close together are prevalent in the south, and were the first African-influenced style of architecture to become popular in the U.S.
John Biggers was born in North Carolina and studied at the Hampton Institute—now known as Hampton University—under Victor Lowenfeld and Charles White. In 1943, a Biggers mural, Dying Soldier, was featured in a Museum of Modern Art exhibition showcasing Young Negro Art. After a stint in the Navy, Biggers followed Lowenfeld to Pennsylvania State University, and in 1949 moved to Houston, Texas where he founded and then chaired the art department at Texas Southern University. Biggers taught there for three decades, establishing a rich tradition of visual art in the city, with a tremendous impact on the lives of countless students, educators, artists and collectors. He continues to have a large presence in Houston where many of his monumental murals, including the 50-foot The Family of Man at the TSU student center, are landmarks.
From 1995-97, John Biggers was nationally recognized with a traveling retrospective exhibition organized by the Museum of Fine Arts of Houston of his work, The Art of John Biggers – View from the Upper Room. The exhibition featured Shotguns, which was the subject of an introductory essay by Professor Robert Farris Thompson, Professor of Art History at Yale University.
In October 2007, Swann Galleries set an auction record price for a work by the artist when an early 1960s painting of Ghanaian women sold for $96,000 (including buyer's premium). In Shotguns John Biggers weaves African-American women, architecture, and other symbols of both African and American culture into a rich and quilt-like geometric pattern. The painting is estimated at $200,000 to $250,000.
Other top lots in the auction include museum-quality works by Elizabeth Catlett, Barkley Hendricks, Hughie Lee-Smith and Charles White.
The auction will take place on Thursday, October 8 at 2:30 p.m.
The works of art will be on public exhibition at Swann Galleries on Friday, October 2, from 10 a.m. to 6 p.m.; Saturday, October 3, from 10 a.m. to 4 p.m.; Monday, October 5 through Wednesday, October 7, from 10 a.m. to 6 p.m.; and Thursday, October 8, from 10 a.m. to noon.
A full-color illustrated catalogue, with information on bidding by mail or fax, is available for $35 from Swann Galleries, 104 East 25 Street, New York, NY 10010, and can also be viewed online at www.swanngalleries.com. Bids can also be submitted by e-mail via the website.