Pastor Shirley Caesar Welcomes Rosephanye Powell to Her Raleigh Church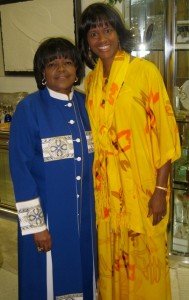 [caption id="attachment_13827" align="alignleft" width="189" caption="L-R Shirley Caesar, Rosephanye Powell - Photo Credit: Damian Bruce"]
Award winning singer/composer Rosephanye (pronounced ro-SEH-fuh-nee) Powell was warmly welcomed by legendary gospel singer Shirley Caesar to Pastor Caesar's Mount Cavalry Word of Faith Church in Raleigh recently where Mrs. Powell performed two songs from her new CD of reinterpreted African American spirituals entitled "Motherless Child" (Inkhorn Music).
Pastor Caesar joined Mrs. Powell during her second song, a rousing rendition of "Joshua Fought The Battle of Jericho," igniting a scintillating spirit filled sing-along, prompting the congregation to stand and deliver in an eruption of clapping hands, stomping feet and hand raising affirmation.
"Motherless Child" is a concentrated, ten song rediscovery and reinterpretation of the African American Spiritual based on a sonic tapestry representing the full measure of the African American musical legacy from its source in Africa, straight through to that "peculiar institution" of American slavery and the African American work-songs that evolved from it, to Gospel, Jazz, Soul and R&B. The CD is in digital release and can be purchased at CDBABY and at iTunes.