Free November Programs at Discovery Green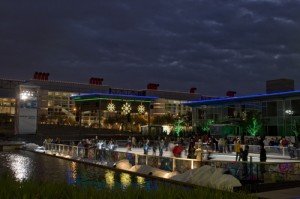 Discovery Green is the place to be for an exciting array of free exercise, cultural and family events throughout the month of October. Open daily from 6:00 a.m. to 11:00 p.m., the beautiful downtown Houston green space continues to attract Houstonians of all ages with free concerts, films, exercise classes, children's playground area, interactive water features and an entertaining selection of special events.
Whether your interest is celebrating Halloween or enjoying Blues and Burgers at the Lake House, October is filled with unique events and activities. Weekday visitors can enjoy lunch by Kinder Lake at The Lake House and Sundays in the park are ideal for shopping at the organic urban market and enjoying free musical performances from 3-5 p.m.
Visitors to the park are invited to stay connected to Discovery Green online through Facebook , Twitter , Flickr and YouTube !
A complete list of all the programs and special events can be found on the Discovery Green website, www.discoverygreen.com or by calling (713) 400-7336. All events are free and open to the public unless noted
DISCOVERY GREEN SPECIAL EVENTS
The Ice at Discovery GreenHoliday Skating on Kinder Lake presented by the Houston Chronicle
November 26, 2009 – January 18, 2010
DOWNLOAD HIGH RES PHOTO – Photo credit: Jeff Fitlow
With more than 100,000 park visitors the first year, The Ice at Discovery Green returns to the park on Thanksgiving Day. Make Discovery Green your tradition during the holidays with an array of activities offered for families, couples, and visitors to the city. Admission $10 includes skate rental and tax
Weekly programs will be offered including skating stars performances, jazz nights, movie nights, dj nights and skating with Santa. Holiday art exhibits including local artist David Graeve's illuminated globes featuring photos taken by FUUSA students and the return of Andy Mann's Video Tree to downtown Houston. The Holiday Green Market returns on Sundays with an array of sustainable gifts and holiday food items. Get around from Discovery Green to all of the activities downtown -- as part of the Downtown Holiday Spectacular – on two Holiday Trolleys with routes available on weekends.
The Invincible Czars perform "The Nutcracker Suite"Saturday, November 28
7:30 p.m. – 8:30 p.m.
Anheuser-Busch Stage
Austin's amazing rock band The Invincible Czars perform their wacky version of the The Nutcracker Suite. Skate along or listen from the hill. When the performance ends, you can catch the first annual Illuminated Art Car Parade on Avenida de las Americas in front of the George R. Brown Convention Center. You won't want to miss this fabulously funky holiday evening!
Life is Living Kick-off Event with Marc Bamuthi JosephSaturday, November 7
11 a.m. – 3 p.m.
Anheuser-Busch Stage & Fondren Performance Space
A Hip-hop "green" festival featuring slam poetry, break dancing, life graffiti mural making, special guest performers and many activities for all ages. Life is Living is a national campaign organized by international artist Marc Bamuthi Joseph that explores the diverse and changing perspectives on environmentalism. Life is Living will be in Houston through 2010 hosted by the University of Houston Mitchell Center for the Arts. Kick-off co-sponsored by the Houston Arts Alliance. www.mitchellcenterforarts.org .