Cutting and Curling for a Cure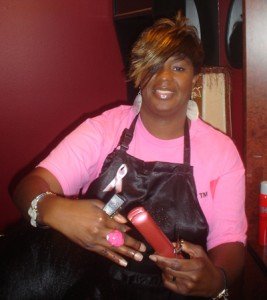 Erica King, hairstylist and fashion image consultant of Beauty Fanatics Salon & Boutique, is cutting & curling for a cure in regards to breast cancer awareness month for October. After having a susceptible diagnose of breast cancer during 2005, Erica has decided to join many others in the mission for a cure for breast cancer.
During the year of 2005, Erica discovered a large inflamed lump in her right breast. Immediately after she noticed the lump, she made an appointment with her gynecologist who then ordered a mammogram of her right breast. After examining the lump in her right breast, her gynecologist referred her to a general surgeon.
In addition, there were more diagnostic tests to be performed. "The day the gynecologist called me in to discuss some abnormal findings of my breast, my heart began to pound and the anxiety grew furiously inside me. I was afraid. I was very reluctant to share the information with my husband, mother, and other family members because I did not want them to worry about me. If I was going to have breast cancer, only I would have breast canker, not my entire family. I did not want them to share in my fears," Erica explained.
Furthermore, she visited with the surgeon's to discuss the diagnostic tests to be performed. At this time, a breast ultrasound was done. Still, the lump in her right breast remained. The surgeon concluded the lump appeared to be benign. "Thank God," Erica shouted followed by an inside prayer. "But I still did not want to walk around with a lump inside of my breast," said Erica.
The surgeon suggested she should get Mammotome, a small probe is inserted into the breast through an incision about the size of a match head. A vacuum technique is used to gently draw, cut and collect tissue in the probe's hollow chamber. This biopsy technique enables several samples to be acquired, resulting in a highly accurate breast cancer diagnosis. Since multiple tissue samples are obtained without removing and reinserting the probe, there is less internal scarring, which minimizes interference with future monitoring and diagnosis of breast abnormalities.
The findings according to the Mammotome, was only a lactating duct inside of the mammary gland, which cause the inflammation and lump in her right breast.
The surgeon suggested a small platinum marker be inserted into her breast for possible further finding. Although Erica does not anticipate further findings, she does make it a priority health concern of hers to get an annual mammogram. "It is better to take precautions by going for an annual well women exam including a mammogram," Erica concludes. She challenges other women to do the same.
Erica is helping in the fight for a cure for a cure of breast cancer by cutting and curling for a cure. As the owner of Beauty Fanatics Salon & Boutique she is offering hair care service discounted specials throughout the month of October in honor of breast cancer awareness month. Women who are presently battling breast cancer and breast cancer survivors will receive an additional percentage off of the special when they come to her salon. For more information about the specials for October and Beauty Fanatics Salon & Boutique visit www.BeautyFanatics.com.