Rza: Wu-Tang a Drive-by Away from Never Existing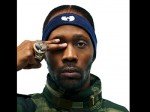 CNN/StyleMagazine.com Newswire
The Wu-Tang Clan -- the New York hip-hop supergroup that spawned millions of album sales, nine solo acts and a few acting careers -- almost never was.
Method Man, the group's most recognizable voice, was nearly killed before the band formed, Wu-Tang's chief producer, RZA, writes in his forthcoming memoir.
Meth was walking to buy marijuana at 160 Park Hill Avenue in Staten Island -- the house in Wu-Tang's "Protect Ya Neck" video -- when RZA saw him across the street, he writes in the book.
"Come over here, yo!" RZA beckoned, according to "The Tao of Wu" (Riverhead). "He stopped and came running over. A few seconds later -- pow-pow-pow-pow-pow! -- a guy started shooting up the front of 160. A buddy of ours, Poppy, an innocent, school-going, nice guy -- he was shot and killed right there."
It wasn't the only close call RZA said could have snuffed the band that rewrote the rule book for hip-hop acts. The year before the group formed in 1993, RZA was acquitted on an attempted murder charge that could have put him behind bars for eight years, he writes in "The Tao of Wu," out Thursday.
Expanding on the book's anecdotes in an interview with CNN, RZA explained that if he had been imprisoned or if Method Man, aka Clifford Smith, had been killed, the band never would have come to fruition.
RZA, whose real name is Robert Diggs and whose stage name is pronounced "Rizza," also talked about his role in the death of his cousin, Russell Jones, better known as Ol' Dirty Bastard or ODB. Two days before his 36th birthday in 2004, ODB died in a New York recording studio from an overdose of cocaine and painkillers.
RZA writes in the book that he once witnessed ODB force his own son to watch him do drugs. RZA tried to leave, he writes, but ODB wouldn't let him. Now, RZA told CNN, he wishes he would've been tougher with ODB about his drug problem.
Following are excerpts from the interview, which has been edited for language, flow and length:
CNN: Could your imprisonment or Method Man's death have derailed Wu-Tang's formation?
RZA: Either one of those incidents could definitely have derailed it. Of course, myself being the abbot, the one who came with the idea, if I wouldn't have made it out of that tumultuous time -- it seemed like I wasn't going to make it out of it; there was a lot of odds against me -- but we stood strong, and self-defense made sense to the jury. We beat that ...
It was the victory over that incident that made me change my whole direction. In a way, it's double-edged in that incident. One, if I would've lost that, yeah, Wu-Tang wouldn't have happened, but also it's the victory of it that inspired me and gave me the drive also to go and really get serious about Wu-Tang and the things I was dealing with.