Start Booking Hunts at First Light, Jan. 7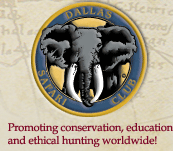 More than 300,000 square feet and 1,100 exhibits are confirmed—and some 24,000 attendees are expected—for the four-day expo, called First Light, at the new Dallas Convention Center.
"Our show is always first but exhibitors and attendees say the quality of our show is what really sets it apart. That's a great source of pride for us. Best of all, First Light raises funds for our wildlife conservation and education programs," said Ben Carter, DSC executive director.
Exhibitors include top outfitters and professional hunters from around the world. Gun makers, optics and gear companies, artists, jewelers, clothiers, furriers and others, all considered best in their field, also will be there. Daily agendas include seminars on perfect safari rifles, building a custom trophy room, reloading for heavy game and more, all lead by respected authorities such as Craig Boddington, Larry Potterfield, Larry Weishuhn and others.
Daily admission is $15 per person. Multi-day discount packages are available.
In the evenings, convention registrants can enjoy gala banquets featuring celebrity speakers, awards, entertainment and auctions for world-class hunts, firearms and more.
For more information, visit www.biggame.org.