Make Your Teeth a Priority for the Health of It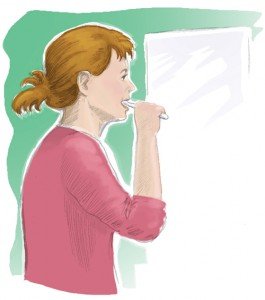 Did you know that 85 percent of Americans are so obsessed with brushing their teeth that they keep extra toothbrushes on hand just about everywhere? It's true! According to a 2008 SpinBrush survey, popular places include a purse or briefcase, the office, the car and even a gym bag.
Knowing this makes it astonishing that every year approximately 32 million workdays are lost due to dental problems. People love brushing, so why are so many having dental problems? It seems like it's time to get back to the basics about oral care, its effect on overall health and basic brushing. So make oral hygiene a priority ... for the health of it!
The Big PictureIt's been said that the eyes are the windows to a person's soul. Just the same, the mouth is a window to a person's health. Harmful bacteria can develop and fester in the mouth - especially if teeth and gums are not well taken care of. Some are concerned that, eventually, these bacteria can make their way into the bloodstream, leading to other infections. But a healthy focus on taking care of your teeth and gums can allow you to breathe easy and worry less.
As Easy As 1-2-3Maintaining good oral hygiene can be achieved in three easy steps:
1. Find a good dentist and visit every six months for a teeth cleaning and check up.
2. Floss every day! Flossing helps to remove plaque and decaying food that remains stuck between teeth and can often lead to gum irritation. Lack of flossing can often lead to receding gums and cavities between the teeth.
3. Brush your teeth for at least two minutes at a time, twice a day. Proper brushing can prevent things like gingivitis and gum disease, which causes at least one-third of tooth loss in adults.
It's All About the BrushAn important part of brushing is having a great toothbrush. While manual brushes have a longer history, adults actually prefer powered-brushes. In fact, the SpinBrush survey showed that two-thirds of those surveyed recognize the efficiency of a powered toothbrush and understand it delivers a deeper clean than a manual brush. The newest innovation in powered toothbrushes is the sonic brush, like the SpinBrush Sonic, which is available in Pro Clean and Pro Whitening variations. Sonic toothbrushes are defined by the high rate of speed that their brush head vibrates. SpinBrush Pro Clean Sonic delivers up to 16,000 strokes per minute, and creates dynamic fluid action that helps to reach in between teeth - where manual brushes may not reach. In fact, it removes up to 95 percent of plaque in hard-to-reach places.
It's important to be diligent about brushing, flossing and visiting the dentist. It doesn't take much effort, but it will benefit your teeth - and your health - in the long run.
For more information on oral hygiene, visit www.spinbrush.com. And make oral care a priority ... for the health of it.
Chew on this ...The makers of SpinBrush battery powered toothbrushes fielded a survey in 2008 and learned answers to some tooth brushing related questions. Below are some of the unexpected results.