New HISD Superintendent, New University of Houston – Downtown President and Department of Education Representative to Participate in Project GRAD Houston Walk for Success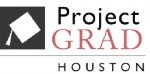 "Walk" participants will include new HISD Superintendent Dr. Terry Grier, who will join Project GRAD Houston Founder and Chairman James L. Ketelsen, U. S. Department of Education Regional Representative Dr. Patricia Crisp and new University of Houston – Downtown President Dr. William Flores at Jefferson Davis High School to participate in the 21st annual door-to-door campaign targeting the homes of 9th grade students. Volunteers will also visit the homes of 9th graders attending the Ninth Grade College Preparatory Academy, John H. Reagan High School, Phillis Wheatley High School and Jack Yates High School.
During these visits, students and their parents will be asked to sign a "Scholarship Agreement" that will make the student eligible for the $4,000 non-competitive scholarship when they: (a) graduate in four years or less with at least a 2.5 GPA, and (b) attend two GRAD sponsored college institutes during their high school tenure. Project GRAD Houston has offered over $16 million in college scholarships to over 4,000 HISD students since its inception in 1994.
To volunteer, or for more information, please visit our web site at: www.projectgradhouston.org or call 832-325-0467.
WHAT: Project GRAD Houston Walk for Success
WHEN: Saturday, October 24, 2009
9:00 AM to 12:00 PM
WHERE: Davis High School, Ninth Grade College Preparatory Academy, Reagan High School, Wheatley High School, Yates High School and
WHO: Project GRAD Houston staff members, Communities In Schools personnel, HISD teachers and administrators, and community volunteers