Sarcoidosis Walk October 24, Houston TX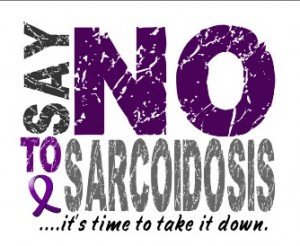 Janine's Sarcoidosis Outreach Foundation (JSOF) will host its Fifth Annual Sarcoidosis Walk for A Cure on Saturday, October 24th at the Jewish Community Center, 5601 S. Braeswood. The JSOF walk registration begins at 7:30 a.m. and will end with a question and answer session with sarcoidosis expert Dr. Marc Judson from the University of South Carolina. Sarcoidosis is a multi-system disorder of an unknown origin that predominantly affects the lung and lymph nodes.
"JSOF is growing, we are spreading the word, educating and informing the community about this disease that affects so many lives." says Emma Carroll, Executive Director and Founder.
Recently sarcoidosis has been discussed in the news, radio and television. Comedian, Bernie Mac died from pneumonia, a side effect of sarcoidosis in August of 2008. In the spring of 2008, a coroner's report stated singer/songwriter, Sean Levert, son of Eddie Levert, lead singer of legendary R&B singing group The O'Jays, died of complications from sarcoidosis.
On April 1, 2009 in a proclamation by Governor Rick Perry he stated, "At this time, I encourage all Texans to learn more about Sarcoidosis, the risk factors, the symptoms, the treatments available and how we can help the people afflicted with this disease." Therefore, I, Rick Perry, Governor of Texas, do hereby proclaim April 2009, Sarcoidosis Awareness Month.
In 2007 House Bill Resolution 1049 was passed to make April, National Sarcoidosis Month. Sarcoidosis is now included on the National Health Calendar. Also from the 2008 National Institutes of Health (NIH) roundtable discussion, a national sarcoidosis organization is being formed. This will be one collaborative body in the nation for research, awareness, education and sarcoidosis advocacy.
Emma Carroll founded Janine's Sarcoidosis Outreach Foundation in 2003. Carroll's daughter, Janine, was diagnosed with Pulmonary Hypertension on February 15, 2002 and lost her battle with sarcoidosis 9 days later. The mission of the organization is to empower the community through outreach and education and raise the awareness of the disease.
For volunteer or sponsorship information, visit the JSOF web site at www.jsof.org, or contact Emma Carroll at 832-248-6621.