Jarvis Johnson: Wants to Continue What He's Already Begun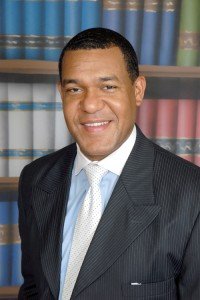 Top Issues: Stable living for senior citizens
Business development
Sustainable housing
Revitalizing schools
Neighborhood protection
Marital Status: Married with two children
Religious Affiliation: Attends St. John's United Methodist Church and Our Mother of Mercy Church
Council Member Jarvis Johnson is nearing the end of his second term in District B. The district includes the north and northeast parts of Houston, such as 5th Ward, Acres Homes, Greenspoint, and Intercontinental Airport. About 250,000 people live in the district, and it's got a diverse population. That includes young people and senior citizens alike. Council Member Johnson sums it up best when he says District B contains "every Black neighborhood in the North."
His top issues are: stable living for senior citizens, business development, sustainable housing, revitalizing schools, and neighborhood protection. The top issues are based on the need to ensure that his constituents are getting the attention to issues that they need.
Council Member Johnson has some achievements during his four years in office. They include facilitating expansions to Intercontinental Airport and supporting wireless Internet access to various parts of the city, such as city parks, multi-purpose centers and other public places. He's also secured more than $17 million in funding for library and parks projects and $24 million for storm drainage improvements. This is important because the district contains some residents that have traditionally been underserved.
Another achievement that can be posted in the 'win' column was saving Brock Park from the city budget chopping block. The city council recently considered closing the park in order to help trim the budget. When the amendment to the budget was brought up Council Member Johnson voiced his opinion against closing the park because no one had even asked him or the community about it. That lead to a 4-hour discussion that I am sure was not predicted. When it came time for voting, the city council decided not to close the park. The park survived another day. That's a 'win'.
On the flip side, things are far from perfect in District B. It has its challenges. He knows there are a disproportionate number of vacant or abandoned lots, problems with the North Forest Independent School District and crime. We saw a lot of media coverage about the murders in Acres Homes and the mismanagement issues with North Forest ISD. He wants to fix those problems by encouraging more new home development and a better sense of community. Once those things exist, he believes all of the other problems will go away.
Despite the challenges in District B, it has one important advantage: jobs. Large employers, such as Intercontinental, Anheuser Busch, and Halliburton, have operations in the district. However, the majority of those employees live either in other parts of Houston or in neighboring cities. He wants to encourage more people to live where they work.
So who is running against Council Member Johnson? He has one opponent, Roger F. Bowden. Not much is known about Mr. Bowden. He didn't file campaign reports. He also didn't attend our candidate screenings. I would have liked to have asked him what his top issues on this campaign are and how they differ from Council Member Johnson's. I guess we will never know.
Even with campaigning with an opponent, Council Member Jarvis enjoys support from a variety of groups. They include Harris County Young Democrats, Harris County Democrats, AFL-CIO, Houston Contractors Association, Houstonians for Responsible Growth Political Action Committee, HOPE/SIEU, Continental Airlines and a host of others. His opponent has been endorsed by the Houston Black American Democrats and the Houston Apartment Association. However, given the numerous endorsements Council Member Johnson has received, he has a lot of organizational support behind him.
This race is not one that has generated a lot of controversy, questions or claims i.e. drama. It's been a very quiet race and will likely finish out that way. Council Member Johnson is asking for your vote to continue the work he's started. The outcome probably won't be a big surprise.