Mayor Kathy Whitmire Returns to Houston to Receive Tribute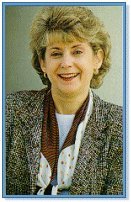 On Saturday October 31, 2009 at the Hilton Americas Hotel, celebrities, government officials and Houston's community leaders will gather to celebrate 25 years of HoustonWorks USA and to honor former Houston Mayor Kathy Whitmire. Whitmire is returning to the city she governed for 10 years to receive HoustonWorks USA's highest honor—the Founder Award.
Named in honor of Whitmire who helped establish HoustonWorks USA in 1984, the Founder Award will be presented annual to an individual with the vision, insight, determination, and tenacity to advance HoustonWorks USA mission of strengthening, preparing and mentoring individuals with sincere compassion and who display an unwavering commitment to connecting HoustonWorks USA customers with employers and jobs.
"I cannot tell you how honored I am to be receiving this award," said Mayor Whitmire. "Back in 1984 the idea was to combine public and private resources to create an organization that would be responsive to the needs of the business community by providing a place where unemployed or under-employed people could go to seek training and job placement. The organization that is now known as HoustonWorks USA is continuing to change with the times. While it will always be a job training and placement organization it has and continues to expand into a human services organization with more youth programs, scholarships, internships and now disaster relief. It is amazing what can happen when you have the entire community's support."
"The vision that Mayor Whitmire had when creating this organization is very evident in today's economic environment," said Larry V. Green, Esq. HoustonWorks CEO. "The partnership between public and private funding that Mayor Whitmire created is still evident today—because of this cooperation we are able to expand our program reach to include scholarships, youth leadership summits, disaster relief as well as science, technology, engineering and mathematic camps. The city and HoustonWorks are really indebted to Mayor Whitmire for all she has accomplished."
Houstonians Dan Rather will serve as master of ceremonies, Brett Cullen, Sean Patrick Flanery, JoBeth Williams along with Keesha Sharp will serve as presenters and Regina Belle will provide musical entertainment at HoustonWorks USA 25th Anniversary Gala on Saturday, October 31, 2009 being held at the Hilton Americas Hotel in downtown Houston.