Lloyd Boston Dressing Ladies for Less
JGoode | 10/22/2009, 10:52 p.m.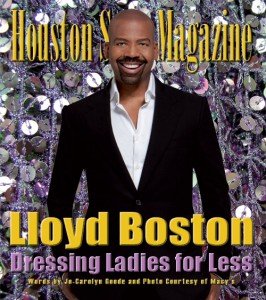 When conducting a face-to-face interview, I dress in my best professional attire. For the subject of the feature for this week's edition I took extra special care in putting together the outfit I would wear in fear of being judged critically for my presentation. After all, I was interviewing the man with a smile that lights up any room, who can dress the biggest named movie star or the girl next door and make them both feel and look like a million bucks. He is the pulse of what's hot and what's not; he is America's style guy; he is Lloyd Boston!
Dressed in a navy blue pinned stripped suit with a crisp white shirt, Boston was striking. His appearance was simple and classic yet it spoke volumes without him saying a word. My first impression of him was he is the man, and that is not a understatement. Anyone who can take the clothes that are currently in the average woman's closet and update her look without breaking her bank has great power. Boston brought some of that work-with-what-you-got concept to Houston women during his recent visit to Macy's at Memorial Mall by showing them how to get the most mileage out of their wardrobe.
Being fashionable in stylish Houston can be challenging since the climate here is what Boston calls "tricky." I can walk out my door in the morning wearing a sweater, at lunch strip to a tank, and in the evening put the sweater back on. According to Boston the saving grace in "tricky" weather is cashmere. "Cashmere is amazing," he said. Jones of New York has a line of lightweight cashmeres in long sleeves and short sleeves in various colors that are suitable for the fall season. "They pop underneath more neutral clothes," said Boston who suggests wearing cashmere with a gray business suit, a favorite skirt, or with jeans for a fun weekend look. Another staple for a Houston woman's closet is a crisp white shirt. "Every woman needs a clean white shirt because it gives a shower fresh feeling that is needed especially on these humid and tricky days," commented Boston. Jones of New York has the perfect shirt for the woman who doesn't like to iron. It is called easy care meaning wash, dry and wear are all that is needed.
Model Heidi Klum, the host of the television show "Project Runway" say, "One day you are in and one day you are out." This fall the color gray is in. "Something in that kind of smokey, charcoal gray, which we saw all over the runways of New York," said Boston. Going overboard, ladies, by matching too much gray with gray is out. A gray dress with gray tights is okay, but adding gray eye shadow, handbag, and nail polish is way too much. Think more monochromatic says Boston. "I think there is power in a woman who understands how to maximize her frame by using monochromatic outfits." While watching your color pallet also watch your wallet. Most people think that if it is expensive or made by a designer with a certain brand, the outfit is automatically stylish. Boston says look at the style before looking at the label. "Most stylist women in the county and in the world know that they can shop at Macy's to shop meets and creative amazing looks." Boston added, "The beauty of a store like Macy's is that it has done the editing for you. So if you want to know what's hot for the season you can come to Macy's, visit Jones of New York, and they have already picked out what they know this area will appreciate."
Ladies of Houston, before shopping at different stores for an entire new wardrobe, shop your closets. There are some gems and hidden treasures that can be brought to light with just a few classic pieces. This kind of shopping will save some green while waking up the inner fashionista in you. Always stay in fashion with the style guy Lloyd Boston by logging on to his website at www.lloydboston.com.