Native Treasures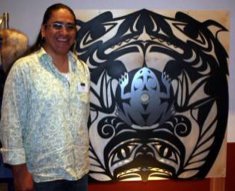 Ardith Eicher and Karen Freeman, Co-Chairs of Native Treasures: Indian Arts Festival, and a small army of volunteers know how to impact the lives of hundreds of Native artists as well as the exhibits and education programs of the Museum of Indian Arts & Culture (MIAC).
Five years ago Eicher and Freeman helped create this unique Native arts festival as a fundraiser for the museum and as an income opportunity for the artists who participate. In a short time, Native Treasures has emerged as one of the leading Indian art shows in the country. Their tireless efforts, as well as the dedication of their organizing committee and volunteers, have built
Native Treasures into an important income source for both the museum and the artists. Proceeds from the 2009 show provided the primary funding for both the Picture Books of Change and the Native Couture II exhibits currently on display at the museum.
"We are so proud of the $250,000 we've raised for the Museum of Indian Arts & Culture over the past five years, while supporting the artists that we care so much about," says Eicher. "We are looking forward to another successful year in 2010."
In a change from previous years, Native Treasures 2010 dates are set for Saturday, May 22 and Sunday, May 23, 2010, the weekend before Memorial Day. Top Native pottery, jewelry, glass, painting, sculpture, carvings, textiles and more will be available for sale at this festive event that takes place at the Santa Fe Convention Center, just off the plaza in historic downtown Santa Fe.
The show in 2010 will feature over 200 museum-quality Native artists, weaving demonstrations by Toadlena Trading Post, an entertainment mix of Native and non-Native music, Native dancing, and delicious food.
"Native Treasures is becoming the place to go for some of the best Native art in the world," adds Eicher. "The advantage we have is that this show is invitational, so we are able to invite the 'best of the best' artists. We also aim for about one-third of the show to be new artists each year, so different artists have the opportunity to participate and collectors have a reason to come back year after year. It's always fresh."
"We have invited a high caliber group of artists, from established masters to the brightest emerging artists, all of whom are producing museum-quality work," says Museum of Indian Arts & Culture Director Dr. Shelby Tisdale. "Many of these artists are in our permanent collection, so this is a wonderful opportunity to offer this quality of art for sale to collectors and lovers of Indian art."
In order to increase its commitment to identifying talented emerging artists, Native Treasures will be adding an Emerging Artists section to the show in 2010. Organizers will be working with the Santa Fe Indian School, Institute of American Indian Arts and the Poeh Center to identify high school and college-aged artists (as well as older artists who are just starting their art careers) to participate in this venue.