Trey McIntyre Project to Make Houston Debut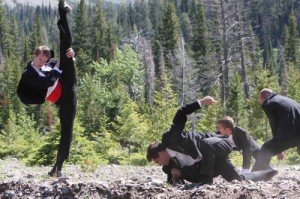 The former Houston Ballet Choreographic Associate Trey McIntyre returns to Houston with his own company performing a program that includes Like a Samba, set to a septet of songs by Brazilian jazz star Astrud Gilberto; (serious) a trio set to the music by the experimental American composer Henry Cowell; Shape, a piece using balloons in whimsical ways, with music by Goldfrapp and The Polyphonic Spree; and The Sun Road, a commission for the Wolf Trap Foundation's "Face of America" about Glacier National Park, featuring native Blackfoot pow-wow music and songs by Paul Simon, Young Grey Horse and Nina Simone.
Trey McIntyre Project launched as a full-time company in 2008 and has performed in cities throughout the United States and abroad. The company is based in Boise, Idaho—a deliberate choice of location—to allow for more creative space and quality of life. McIntyre's founding mission for the company was to use the inherent beauty of ballet vocabulary to create dances that authentically and clearly convey the emotion and grace of life's journey, while meaningfully engaging audiences in the experience of art.
The Boston Globe hails, "Trey McIntyre has emerged over the past decade as one of the hottest choreographers in the dance world."
McIntyre is one of today's most sought-after young choreographers who uses emotion and grace to advance contemporary dance that engages audiences in the experience of art and life. Born in Wichita, Kansas, McIntyre studied at North Carolina School of the Arts and later with Houston Ballet Academy. In 1989, McIntyre was named Choreographic Apprentice to Houston Ballet; a position created specially for him by Artistic Director Ben Stevenson, and in 1995 elevated to Choreographic Associate. Since then, McIntyre has choreographed for companies such as Stuttgart Ballet, American Ballet Theatre, Hubbard Street Dance Chicago, New York City Ballet and Ballet de Santiago (Chile), in addition to his own company. He has served as Resident Choreographer for Oregon Ballet Theatre, Ballet Memphis and The Washington Ballet.
He is the recipient of grants and awards, including two choreographic fellowships from the National Endowment for the Arts, as well as a Choo-San Goh Award for Choreography; he was named one of Dance Magazine's "25 to Watch" in 2001, one of People Magazine's "25 Hottest Bachelors" 2003 and one of Out Magazine's 2008 "Tastemakers."
Prior to the performance, patrons are welcome to attend Arts Talk!, a pre-performance Q&A with members of the Company at 7 p.m. inside the Cullen Theater. At 7:30 p.m. in the Wortham Center's Grand Foyer, patrons may enjoy the Performance Prelude by Rice Dance Theater.
Part of SPA's IW Marks Dance Series, this performance is generously sponsored by The Louisa Stude Sarofim 1995 Trust, The New England Foundation for the Arts, Continental Airlines, H-E-B, BMC Software and The Brown Hand Center.
Tickets range from $20-$50 and can be purchased online at www.spahouston.org, by phone at 713-227-4SPA or at the courtyard level ticket office at Jones Hall located at 615 Louisiana St. Hours of operation: 9 a.m.–6 p.m. Monday – Friday, and 10 a.m.–4 p.m. on Saturday. For groups of 15 or more, call 713-632-8113.