White, Lulu Belle Madison (1907-1957) Houston NAACP Leader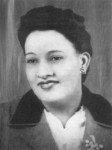 Lulu Belle Madison White, civil rights activist in the 1940s and 1950s, devoted most of her adult life to the struggle against Jim Crow in Texas. She campaigned for the right to vote, for equal pay for equal work, and for desegregation of public facilities.
Lulu was one of twelve children born to Henry and Easter Madison in East Texas at the turn of the twentieth century. Her father, Henry Madison, a former Mississippi slave had moved to East Texas and later purchased 120 acres of farmland. When Lulu Madison was born in Elmo, Texas in August 1900, she was born into a community that was thirty-five (35) percent African American and sixty-five (65) percent white. It was also a community where cotton and Jim Crow was "King." Segregation and 'separate but equal' were enshrined in the state's constitution. Furthermore, the white citizenry enforced this oppression by lynching and threats of lynching. In 1908, East Texas had the dubious distinction of leading the state with twenty-four recorded lynchings .
The Jim Crow regime denied African Americans basic human rights to health care, jobs, education, and criminal justice. Black males were expected to tip their hats in the presence of whites. The poll tax, whites-only primary, and voter declaration regime suppressed African Americans' right to vote. But Henry and Easter Madison ensured that their children escaped much of the day-to-day indignities of Jim Crow. When most African American children had to leave elementary school to assist their share cropping parents; Lulu remained in school when the crops were harvested. Even so, some indignities remained. At Old Terrell Colored High School, the library books were those previously used by the white high school students [3-9].
It was at Prairie View A&M University that Lulu honed her leadership skills. Recognizing that the college had the responsibility of developing a cadre of college-educated African American leaders, Prairie View College emphasized the development of intellectual skill, rigor, and discipline in debate through the L & D society, the excelsior Literary Society, and the Aristo Club. Lulu learned these lessons well and emerged as a leader while graduating magna cum laude from the college in June 1928.
Shortly after graduation, Lulu married Julius White, a successful business owner who financed some of the race discrimination lawsuits in Houston. Despite her superior grades at Prairie View, Lulu was denied a teaching position in Houston. She commuted to her teaching position in Lufkin, Texas for two years before becoming involved in the struggle against Jim Crow [13-16].
Lulu began as an organizer to help support the Grovey lawsuit. She organized women groups such as the YWCA, Metropolitan Council of Negro Women, The Eastern Star and Grand Court of Calan.
Lulu's hard work earned her a new job as Executive Secretary of the Houston Branch of the NAACP. Her job was created to free up the president from some of the day-to-day tasks so the he could work on fulfilling the objectives of the NAACP. As executive Secretary, Lulu became involved in the following causes: protests against discrimination in the Houston shipyard; protests against discrimination in Atlas Dress Manufacturing Industry; protests against discrimination in Beaumont, Texas that lead to 2,000 whites rioting and destroying an African American section of Beaumont; protests for the establishment of Reserve Officer Training corps Units in African American schools; protests that lead to African Americans being able to attend the Houston Music Hall and be seated alongside whites; protests against the Texas white Democratic primary; protests to change or modify the city manager system of government; protests opposing candidates running for city offices that were against African American interest; efforts to get the vote out on election day; protests against Houston's City Council to end protest police brutality; protest which increased the number of African American police officers from six to thirteen; protests by letter which attacked President Johnson for allowing the Anti-Poll Tax Bill to die on the floor of the Senate; protest efforts to raise teacher pay; protests against setting up an Office of Price Administration. Lulu was involved in these causes and many others that are too numerous to mention. She continued her efforts as she was selected by the National NAACP to be Director of Branches for the Southwest Region. While continuing in both positions, Lulu continued to oppose discrimination, unfair treatment of African Americans, and Jim Crow. She was at case with the local leaders of the NAACP as with Thurgood Marshall and the leaders of the national NAACP. She was unafraid working with labor groups to enable African American workers, even at the risk of being called a communist