Marshall High School Holds Flag Raising Ceremony Marking their Designation as a Recognized Campus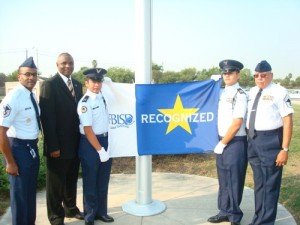 [caption id="attachment_13195" align="alignleft" width="300" caption="Pictured (from left to right) are: Master Sergeant Melvin Chatman, Reynolds, Cadet Brandon Ortega, Cadet Johnathan Fuentes, and Chief Master Sergeant Jesse Battle. "]
Students and staff at Marshall High School celebrated their success at being designated a "Recognized" campus by the Texas Education Agency by holding a Flag Raising Ceremony on September 2.
Alonzo Reynolds, Principal at Marshall, welcomed guests and explained that "the raising of the Recognized flag brings a renewed commitment to raise expectations among students, staff, community, and himself as principal of Marshall High School."
Among the many guests attending the ceremony were: FBISD Board of Trustees Bob Broxson, Sonal Bhuchar, Marilyn Glover, and Daniel Menendez; former FBISD Board Member, Arthur Pace, Sr.; Dr. Timothy Jenney, Superintendent; Mike McKie, Assistant Superintendent for High School; State Representative, Doro Olivo; and members of the Fort Bend Pastors Association. Marshall High School staff members who helped open the school were also among the invited guests. Members of Marshall's Air Force JROTC helped raise the Recognized flag.