Drastically improve your health … chat with your neighbor!
Tonja Ward | 9/17/2009, 4:19 p.m.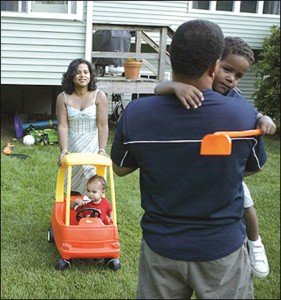 Do you make an effort to just stop and chat with your neighbors? Or, are you too busy trying to get in your front door or garage as fast as you can, hoping no one is around to say hello as you escape indoors. We know some of you are laughing right now because that's you!
Does your lifestyle include meeting with friends and family often – for no particular reason – just because?
When we use the term "neighbor" it's not just the people you physically live beside it's also those in your community – your daily circle of influence. That includes your co-workers, the person you sit beside at church, the grocery store attendant, your child's teacher – you get the picture! We know you speak, but what if you actually listened to a response when you say "how's it going?" Instead we wait for the typical "great thank you, how are you?" and move on.
But remember, just a year ago this week, talking to our neighbors was the norm as we pulled together to rebuild after hurricane Ike. For many of us, it was the first time meeting our neighbors. Communities banned together to support each other like never before. But once we were pretty much put back together we stopped getting together with our neighbors.
We stopped the very dialogue and neighborly chatting that makes a healthy difference and adds years to your life. It's the conversations that involves true meaningful communication – like what was found in the small community of Roseto, Pennsylvania; and what is now known as the "Roseto effect."
The introduction in Malcolm Galdwell's Outliers is entitled "The Roseto Mystery – These people were dying of old age. That's it." The mystery behind this community of immigrants from the Italian province of Foggia was that no one under 55 died of a heart attack or showed any signs of heart disease. In fact, "for men over 65, the death rate from heart disease in Roseto was roughly half that of the United States as whole. In fact, there was no suicide, no alcoholism, no drug addiction and very little crime. The cardiologists and other health professionals that studied these people thought their diet practices from the "Old World" was the contributing factor – but they were blown away when they found a whopping 41% of their calories came from fat. This was not a town where people got up at dawn to run a brisk six miles either. To the contrary, in fact the Pennsylvanian Rosetans smoked heavily and many were struggling with obesity.
What gives? The researchers found a common theme – the "Rosetans visited one another, stopping to chat in Italian on the street, or cooking for one another in their backyards." Extended family clans underlay the town's social structure. They saw how many homes had three generations living under one roof, and how much respect grandparents commanded. They also counted 22 separate civic organizations in a town fewer than 2000 and how the church had a strong, unifying and calming effect on the community.
Now, let's fast forward to America today. The leading cause of death in America is -Heart Attacks! Over 26% of Americans suffer from heart attacks and African Americans lead the pack.
What if we applied the wisdom from the Roseto effect (http://www.ncbi.nlm.nih.gov/ - "Roseto effect") to our own lives? What if we returned to the neighborly atmosphere that existed as we recovered from hurricane Ike? Can you imagine the wonderful and significant health benefits?
Now here's a health tip you can implement RIGHT NOW! Call friends and invite them over "just because." Stop your car in the driveway and chat with your neighbor. Meet people after church and have a meal. Parents, really live out the old adage "it takes a village to raise a child."
Every day, make it a point to find meaningful ways to Feel Inspired Together.
FITatudes can help! Join the FITatudes 9-week telephone-seminar series starting the week of September 21st. Contact us - info@FITatudes.com to learn more or visit us at www.FITatudes.com.