New Research Finds Most African American Women with Lactose Intolerance Manage Their Condition by Limiting or Avoiding Dairy
JGoode | 9/21/2009, 3:56 p.m.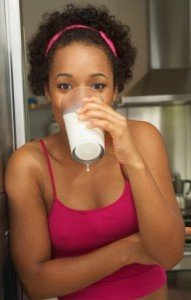 The study found that half of African American women are unsure about what foods are safe to eat without triggering symptoms and 12 percent remove dairy from their diet completely as a way to control their lactose intolerance. This is concerning as dairy foods and beverages contain essential nutrients that are important for a healthy lifestyle.
Since up to 80 percent of African Americans may have symptoms of lactose intolerance, there is a need for a greater understanding of how to manage the condition. In fact lactose intolerance is easy to diagnose and easy to manage, without forgoing milk and the dairy foods African Americans and their families love. That's why to help educate women about lactose intolerance, the LACTAID® Brand has partnered with Delilah Winder, celebrity chef, author and restaurant owner, to share her recipes and tips for eating healthy and enjoying dairy again.
"Although I am lactose intolerant, milk and dairy products are an important part of my diet. I rely on LACTAID® Milk to ensure I drink real, delicious milk everyday and consume the nutrients necessary to maintain a healthy lifestyle," said Winder. "In my house, no family gathering is complete without sweet potato pie because managing lactose intolerance doesn't mean we have to give up on our favorite traditional soul food dishes."
The LACTAID® Brand recently conducted the Lactose Intolerance in Multicultural Communities Survey to gain insight into how multicultural women, who are more likely to have lactose intolerance, understand and manage the condition. Additional findings include:
Fifty-seven percent of African American women feel inconvenienced by their condition.
Eighty-four percent want to keep dairy in their diet because of its health benefits - 48 percent because it is a natural source of calcium and nutrients and 36 percent to maintain healthy bones.
A majority of African American women are worried about managing their lactose intolerance in social settings.
Seventy-four percent worry about experiencing symptoms when enjoying a meal with others.
Sixty-two percent feel they have to avoid certain foods before or during social events.
Forty-eight percent are uncertain about eating foods prepared by friends or family.
Sixty-three percent of African American women do not know that lactose-free products, like LACTAID® Milk, Ice Cream and Cottage Cheese, have the same important nutrients found in regular milk and other dairy products.
Lactose intolerance is the inability to digest foods containing lactose, which is found primarily in milk and many dairy products. The condition creates discomfort such as gas, cramping, bloating and diarrhea. The LACTAID® Brand is dedicated to helping consumers manage their lactose intolerance by providing information and resources about the condition on their website. Consumers can visit www.lactaid.com to find facts about lactose intolerance, a Dairy Digestion Test to determine if symptoms are a result of lactose intolerance and recipes to help manage their condition.