Lights, Camera, Fall Fashion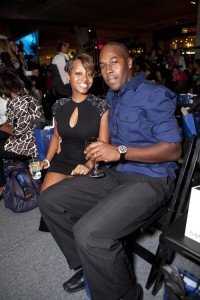 Simon Fashion Now, presented by Cadillac, opened at The Houston Galleria on September 17, 2009, with an invitation-only runway fashion show at Polar Ice. This free, high-energy celebration of style introduced a parade of posh fall fashion from The Galleria's high-end retailers. Simon Fashion Now brought the drama and appeal of a runway fashion show experience to Houston's most fashionable as well as affluent patrons, while showcasing an impressive array of products offered locally.
Uniquely, this fashion show featured items that could be purchased immediately from participating retailers such as Neiman Marcus, Nordstrom, Saks Fifth Avenue, Anne Fontaine, Barneys New York CO-OP, Billy Reid, CH Carolina Herrera, Ed Hardy, Jimmy Choo, Kate Spade, M Missoni, Stuart Weitzman and Tory Burch.
The looks for fall 2009 consist of Western, Hollywood Glam, and Rocker. If you can't afford to purchase pieces from high-end retailers don't fret because all of these style can be duplicated with ease.
To complete trendy looks for ladies, Barney's New York CO-OP combined a distressed animal print cross-body, a shimmering fringe tunic covered with a studded leather jacket, and matching patent booties. M Missoni showcased simple-chic fashions; oversized ponchos and kimono sleeve sweaters with shimmer detail paired with leggings and knee high boots. Tory Burch featured simple-chic fashions; floral tops paired with high waist pencil skirts and accessorized with a studded belts. Also, a lot of layered styles and bold prints were shown from this designer. I especially liked Nordstrom's mix of textures and prints matched with colorful coordinating handbags. In short, fall must-haves are satin tops with ruffle detail; studded belts, shoes and jackets; tweed skirts and skirt suits; shimmering fringe tops and jackets; bold prints (ie: leopard or zebra); oversized hobo bags and colorful clutches. Berry tones are the in-colors for fall.
This season's menswear trendy looks are all about layering. Men should wear cardigan sweaters matched with collared- shirts; long sleeve thermal shirts paired with vests and scarves; and riding boots. A must-have for men is an iridescent blazer or form fitting suit- this ensemble is also great for a day to evening wear.
"We have an extraordinary shopping and style experience lined up for this season's Simon Fashion Now, enabling our shoppers to get an up-close, multi-faceted look into this exciting world without leaving their hometowns," said Jacque Ellis, assistant vice president of corporate special events at Simon.
Simon Fashion Now was a three-day celebration of fashion that catered to those who are budget-savvy as well as opulent. The days were filled with free exciting exhibitions, much coveted give-a-ways, and much more. For the first time, student teams from The Art Institute of Houston participated in Style Wars, an interactive fashion design competition. The public was invited to watch the one-hour competition in which students created unique fashions by hand from scraps of fabric. The teams' creative efforts were modeled on the runway, and judged by a panel of local celebrities.
Simon Property Group created Simon Fashion Now in 2008 after launching successful grand opening events that incorporated elements of fashion at several premier Simon properties. The concept has grown larger every season, with many more events and runway shows that emphasize the notion that fashion is fun and accessible.