Lady Gaga Concert Announcement - Houston Toyota Center on July 25, on sale this Friday at 10am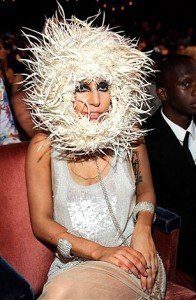 With Lady Gaga's flair for the theatrical, combined with her innovative and creative spirit, The Monster Ball Tour promises to push the limits of the live concert experience, bringing fans a spectacle even more eye-popping than what they experienced before.
"It's still called Monster Ball, but it's more of a musical and less of a concert," Lady Gaga said in a February interview with KIIS-FM's Ryan Seacrest. "It has a New York theme, it's a story, and the story is that me and my friends are in New York and we're going to the Monster Ball, and we get lost."
Lady Gaga is touring in support of The Fame Monster, which was released on November 18th, 2009, by
Streamline/Konlive/Cherrytree/Interscope. The album is the follow-up to 2008's Grammy Award-winning album The Fame, which spawned the No. 1 singles "Just Dance" and "Poker Face." Combined, The Fame and The Fame Monster have sold 10 million albums worldwide, while Lady Gaga's five singles, "Just Dance," "Poker Face," "Lovegame," "Paparazzi," and "Bad Romance," have sold more than 30 million singles worldwide. The video for "Bad Romance" has racked up more than 125 million online views. Lady Gaga recently premiered the video for her new single "Telephone," featuring Beyoncé, on the E! television network and entertainment website VEVO.
As sponsor of the North American Monster Ball Tour, Virgin Mobile customers will have access to presale tickets. "We are excited to take our partnership with Lady Gaga and The Monster Ball Tour to another level," said Bob Stohrer, VP of Marketing for Virgin Mobile USA. "We'll also build on our partnership around combating youth homelessness and continue to enhance the tour experience for fans and our customers."
For details visit www.virginmobileusa.com.
Citi® cardmembers will also have access to presale tickets through Citi's Private Pass® Program. For
complete presale details visit www.citiprivatepass.com.
For complete tour and ticket information, visit: www.ladygaga.com and www.livenation.com