Leela James Finds Her Soul
JGoode | 4/8/2010, 6:16 p.m.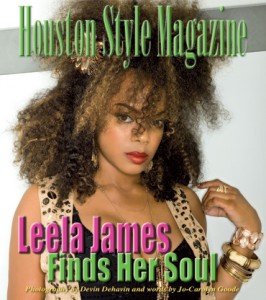 "The title of the album pretty much says it all," explains James about her sophomore album, "My Soul." "I just wanted to go into the studio and do what moved me at the time, and not think about it too much or not allow it to be something that was too planned. That's what great soul music has always been about from the very beginning – something very raw, very authentic and very true."
It is hard to pinpoint James' music because it is just so different. Her music instantly grabs the listener. On her album the first track "Ain't New to This," is a song that very likely could be an anthem for James. It is a bold rebellious stand against the industry in which she exists. Originally with Warner Brothers Records, James was not happy with being an "on the shelf" artist while her management tried to "figure things out." She needed a label that understood her. Lucky girl, she found Stax Records.
"They understand artists like myself. They understand music period and it has been a good marriage so far," said James about the legendary label that is home to artists like Lalah Hathaway, Teena Marie, and Angie Stone. As listeners drive further into the album some of James' favorite songs like "Party All Night" and "Tell Me You Love Me" provide some sweet sounds. "Party All Night" is a lively finger popping, toe tapping, hip shaking track that makes dancing inevitable. While "Tell Me You Love Me" is a ballad about a lovesick soul that is giving all for love. Quite a contrast coming from the pen of the same writer, James herself.
"My Soul" is only James' second album since the first one "Change Is Gonna Come" was released in 2005. The title of that album was born out of the fact that she thought she was very different from the same type of music that was out in the public. "I knew a change would eventually come," James said. "That album was recorded almost ten years ago, believe it or not." Her new album showcases an older better rounded artist since she now has more life experiences under her belt. "I've always been a champion for this music. The album is my version of soul. It's my experience of soul. It's what soul means to me, and I want to share it with you."
Though this album is very personal with James penning a number of the tracks herself, she does enlist some star talent with which to collaborate. Working with the likes of famed producers Gerrard Baker, Carl "Chunky" Thompson, Kadis & Sean, Carvin & Ivan, Steven "Supe" White, Ray Murray, and Butter, James is certain of the quality of this project.
Those wanting to get their hands on a piece of Leela James' soul will have to wait a little longer as her album has not been released yet. The tentative release date is sometime next month. Until then, check her out at www.leelajames.com.