Lemonade Day Info- May 2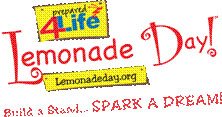 Lemonade Day is an educational initiative designed to teach children how to start, own and operate their own business – a lemonade stand. Kids of all ages learn to set goals, develop a plan, secure an investor, create a product, make a profit and give back to their community.
A special media route has been developed in order to highlight a few of the amazing stories of children and groups that are coming together to build lemonade stands and give back to the community. Lemonade Day VIP's Jeff Bagwell, Astros legend; Michael Holthouse, co-founder, Prepared 4 Life; John Sheptor, CEO, Imperial Sugar; and other VIP's will be stopping by each of the locations to visit with the children and support their entrepreneurial ventures! Each and every lemonade stand is special, and we wish we could highlight all of them. We encourage everyone in Houston to stop by a Lemonade Day stand today!
MEDIA ROUTE: 10:00 a.m. Lydia's Homemade Lemonade Stand, "First Place Winner of the 2010 Best Tasting Lemonade Contest"
Location: CRAVE Cupcakes, 1151-06 Uptown Park Boulevard, Houston, TX 77056
Highlights: Lydia shares an incredible story of her experience with Lemonade Day for the past three years, winning the first place trophy her first year and again this year. And, this year she used a new recipe!
10:30 a.m. Group Is Helping Neighborhoods Celebrate Kids
Location: 5104 Pine, Bellaire, TX 77401
Highlights: John Daugherty Realtors is showing its support of Lemonade Day by encouraging children to set up lemonade stands at all of their Open Houses on Sunday, May 2nd. John Daugherty will be on hand this morning to encourage youth entrepreneurship.
11:15 a.m. Building a Foundation of Confidence for Blind Students
Location: Kroger, 5150 Buffalo Speedway (at Westpark), Houston, TX 77005
Highlights: A group of blind and visually impaired students have used Lemonade Day educational materials in Braille to develop a stand and learn valuable life lessons.
12:00 p.m. Young, Budding Entrepreneur Gets Business Advice from Seasoned Entrepreneur
Location: 100% Taquito, 3245 Southwest Freeway (at Buffalo Speedway), Houston, TX 77027
Highlights: Young entrepreneur Sebastian has participated in Lemonade Day for the past three years, but this year he approached a local entrepreneur to help improve his business. The story about his plans to share his proceeds with a child in Mexico is truly heartwarming.
1:00 p.m. Mayor Annise Parker visits with youth from Yellowstone Academy and the Church without Walls
Location: Galleria, 5085 Westheimer Road, Houston, TX 77056 (Stand set up between Neiman Marcus and Tiffany & Co.)
Highlights: Two groups of youth are coming together in a powerful and meaningful way to learn valuable lessons. Youth from Yellowstone Academy, an organization whose mission is to help families in poverty, are working with their mentors to develop their lemonade stand. And, youth from the Church without Walls are working together and selling pink lemonade, with plans to share their proceeds with M.D. Anderson's youth program.
1:45 p.m. Boys from the Alpha Charity League Learn Valuable Lessons in Giving Back