Gentleman Jack Art, Beats and Lyrics heads to Houston for the first time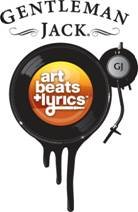 WHAT: Gentleman Jack Art, Beats + Lyrics
WHEN: Friday, Feb. 5, 2010, 7:00 p.m. to 12:00 a.m.
WHERE: Warehouse Live
813 Saint Emanuel St., Houston, TX 77003
TICKETS: Complimentary at www.gentlemanjackabl.com Must be 21 years or older.
"It's not your typical fine art event," said Gentleman Jack Art, Beats + Lyrics co-producer Dubelyoo, one of America's leading proponents of cutting edge urban art. "This is art for our generation. It's live music and art installations. It's two extremes coming at you at the same time."
No less than 25 cutting edge visual artists from around the country are headed to Houston, including Mad Clout, Flux, Michi, Shannon McCollum, Gilbert Young, City of Ink, Occasional Superstar, Wak, and co-producer Dubelyoo. [To the editor: Houston-based artists and musicians TBA].
"Art, Beats + Lyrics opens with a look that reflects the Gentleman Jack consumer's image – classically smooth and refined. Those are characteristics that Gentleman Jack has always represented," said Tracey Johnson, Gentleman Jack Brand Manager. "Gentleman Jack knows this generation expresses themselves through art, dance, and music. Gentleman Jack Arts, Beats + Lyrics gives them the opportunity to do just that in a one-of-kind interactive environment."
Hosted by Hustle Simmons, the lineup for Houston includes live music performances by funky hip hop jazz band – Jaspects. Other tunes will be provided by Rasta Root and DJ Lord on the ones and twos, and more.
"Some people didn't understand how we were fusing together culture, art and music, but Gentleman Jack got it from the start," said founder and producer Jabari Graham, 28 of Atlanta. "We want people to get excited about the arts again — to get exposed and excited," added Graham. "Gentleman Jack Art, Beats + Lyrics is the perfect experience to do that."
First introduced in 1988, and unlike any other whiskey in the world, Gentleman Jack Rare Tennessee Whiskey (80 proof) is charcoal mellowed twice, once before and once again after the maturation process.