Dedication of Continental Jet to black airline pilot- HISD schools involved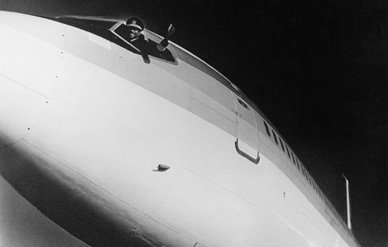 [caption id="attachment_18252" align="alignleft" width="388" caption="Marlon Green in the cockpit of one of Continental\'s Boeing 707s. (Courtesy Green Family)"]In celebration of Black History Month, Continental Airlines will honor Captain Marlon D. Green by dedicating a new Boeing 737-800 airplane to his name and legacy. Marlon Green was our nation's first African-American passenger airline pilot, and was hired by Continental Airlines in 1963. Marlon was a former Air Force pilot who originally applied to Continental for a pilot position in 1957. During the second part of his interview, Marlon was told he was too inexperienced, even though he was a more experienced pilot than the white pilots hired that day. In 1963 a United States Supreme Court ruling forced Continental Airlines to hire Marlon Green, thus making him the first African-American Airline Pilot. Captain Green enjoyed a twelve year career with Continental Airlines before deciding on an early retirement. Marlon passed away last year knowing that he made history and opened doors for thousands of African-American pilots who followed in his footsteps.
Your school has been invited to help Continental Airlines celebrate Black History Month and honor Captain Marlon Green on February 9th and 10th 2010. The events will include a dedication ceremony and field trip to the Washington D.C. Smithsonian Museum.
Itinerary: February 9, 2010: Captain Marlon Green dedication ceremony will be held at the Continental Airlines Hangar E Maintenance facility located at the Bush Intercontinental Airport. This event is scheduled to start at 11:30 AM. Students are requested to arrive at 10:30AM for proper seating. Continental Airlines Chief Executive Officer Jeff Smisek will be the Master of the Ceremonies. The dedication is expected to last thirty minutes.
February 10, 2010: Continental Airlines will fly students to Washington D.C. in the Captain Marlon Green Boeing 737-800 to tour the Smithsonian Air and Space Museum. The departing flight out of Houston will leave Intercontinental Airport at 6:30AM and arrive at Reagan National Airport in Washington D.C. at 10:20AM. The students will tour the museum and the National Mall during the day before returning to Houston. The returning flight will leave Washington D.C. at 6:00PM and arrive at Houston Intercontinental Airport at 8:30PM.
Notes: The dedication ceremony will be covered by local news media outlets and will be attended by elected officials. The flight to Washington D.C. will be operated by an all African American volunteer crew. As we continue to finalize more details, you will be notified promptly of specific information pertaining to these events.
We look forward to teaming with your school and celebrating the legacy of Captain Marlon Green during Black History Month.
Regards,
Captain Roscoe S. Edwards